News
21 January 2010
LEDs in signage & professional displays to grow to $1.8bn in 2015
Global consumption of packaged LEDs used in signage & professional displays was more than $1.32bn in 2009 and will grow to $1.4bn in 2010 and $1.81bn in 2015, according to a new report by market research firm ElectroniCast Consultants.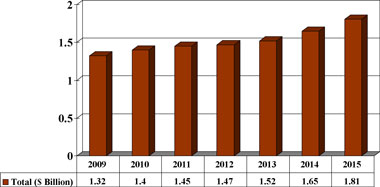 Figure: Consumption of LEDs in signage & professional displays, 2009–2015 ($bn).
"In terms of value, the consumption of HB-LEDs in signals and professional display devices will maintain the majority of the relative market share (2009–2015)," says Stephen Montgomery, president of International Business at ElectroniCast. "However, since there is a huge difference in average selling prices (ASPs) between high-brightness (HB) LEDs [with efficiency of 30lm/W or more] and standard LEDs [with efficiency of less than 30lm/W], the market share leader, in terms of volume are the standard-type LEDs," he adds. The consumption value will increase due to the growth in unit volume, despite the offset effect of declining ASPs.
"Everyday we are noticing major signage replacement projects incorporating LEDs; we are not only seeing LED exit signs and message boards, we are seeing major corporate re-branding efforts, which promote a corporate image of lower carbon footprints and sending a clear message that they are going-green," Montgomery concludes.
See related item:
White HB-LEDs to overtake RGB multichip HB-LEDs by 2013

Search: LEDs Signage & professional displays
Visit: www.electronicast.com