News
22 January 2010
New Audi A8 uses all-LED Osram headlamps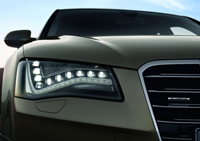 Osram Opto Semiconductors GmbH of Regensburg, Germany says that its LEDs are responsible for both the low and high beams (as well as other specific lighting functions) in the all-LED headlamps of the new top-of-the-line Audi A8 luxury sedan.
Audi's current range of vehicles already has LED daytime running lights installed in the headlamps. But Osram says that now, in the new A8, its OSTAR LEDs have advanced headlamp lighting beyond simple low and high beams: special lighting functions such as motorway beams, cornering lights and all-weather lights are now handled by LEDs (with individual light sources visible in the headlamps, distinguishing the Audi from other automobiles at night).
Osram's OSTAR headlamp is available as a new product platform with up to five LED chips, each with typical light values of 160lm at 700mA. Together, depending on the variant and operating current, 125–1100lm is achievable. With its scalable brightness, the OSTAR headlamp suits all headlamp functions such as low and high beams, cornering lights, fog-lamps and even daytime running lights, says Osram.
"LEDs have left the niche market of limited-edition and luxury vehicles and have arrived successfully in volume production," says Peter Knittl, LED automotive director at Osram Opto. "As they already meet all the requirements of modern automobile lighting and are setting new standards in many respects, LEDs are perfectly suited to mass-market use," he claims.
Due to LED technology, headlamps are evolving from a mechanical component to an electronic module, the operation of which is linked to the vehicle's electronic system, says Osram. For example, for a glare-free full beam, data from the navigation system and information from a light-based driver assistance system are combined, so the lighting system can intelligently illuminate only the required parts of the road when cornering or in oncoming traffic. LED arrays play an important role — depending on the lighting function, individual LED pixels can be switched on or off, enabling light to adjust to various conditions.
See related items:
Osram LEDs light way ahead for VW concept car
All-LED headlamps added to new V10 version of Audi R8

Search: Osram LEDs LED headlamps
Visit: www.osram-os.com