News
19 January 2010
Veeco launches TurboDisc K465i GaN MOCVD system
Epitaxial deposition, process, and metrology equipment maker Veeco Instruments Inc of Plainview NY, USA has launched the TurboDisc K465i gallium nitride (GaN) metal-organic chemical vapor deposition (MOCVD) system for the production of high-brightness light-emitting diodes (HB-LEDs). The firm says that beta-site customers have rapidly qualified the K465i for volume production, and that it has received orders from multiple LED makers throughout the Asia Pacific region.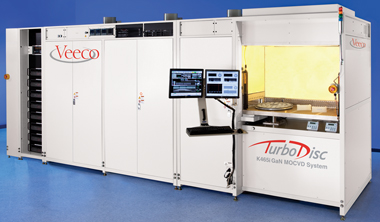 Picture: Veeco's new TurboDisc K465i GaN MOCVD system for the production of HB-LEDs.
Based on Veeco's production-proven K-Series platform, the TurboDisc K465i combines what is reckoned to be the industry's highest productivity with the capability to drive best-in-class LED yields approaching 90% in a 5nm bin. Fully automated with only a short recovery period required after maintenance, the K465i enables higher productivity and reduced cost of ownership compared to competing tools, the firm adds.
At the heart of the K465i is Veeco's patent-pending Uniform FlowFlange technology. Designed to create a uniform alkyl and hydride flow pattern across all wafers, the K465i delivers what is claimed to be superior uniformity and repeatability with the industry's lowest particle generation. Also, the FlowFlange's simplified design provides ease-of-tuning for fast process optimization on wafer sizes up to 8 inches in diameter as well as fast tool recovery time after maintenance, allowing what is reckoned to be the LED industry's highest productivity.
"With superior wavelength uniformity and excellent run-to-run repeatability, the K465i extends Veeco's lead in capital efficiency — the number of good wafers per day for each capital dollar — for high-volume LED manufacturers," says Bill Miller, senior VP & general manager of Veeco's MOCVD business. "Our beta-site customers achieved world-class results in a very short period of time," he adds.
"The K-Series is a robust, reliable, multi-generational MOCVD platform that is in production at more than 80% of the world's key LED manufacturers," comments CEO John R. Peeler. "Veeco is committed to advancing its leadership position by increasing R&D investment, introducing innovative new technologies, ramping MOCVD production capacity, and partnering with customers to maximize their LED manufacturing," he adds. "The K465i MOCVD system is the latest example of Veeco driving down the cost of LEDs to enable applications such as display backlighting and general illumination."
Demand for HB LEDs is high and expected to increase in the coming years. In an August 2009 report 'High-Brightness LED Market Review and Forecast 2009', market research firm Strategies Unlimited forecasted that the HB-LED market will grow at a compound annual growth rate (CAGR) of 24% from $5.1bn in 2008 to $14.9bn in 2013.
"Our research indicates the fundamental drivers for the HB-LED market have become even stronger in recent years as new applications for LEDs in lighting and backlights continue to emerge," says Robert V. Steele, director of Strategies Unlimited's LED practice. "To meet the overwhelming demand that we expect this will create over the next few years, LED makers will need to quickly ramp up their manufacturing capabilities, including the addition of substantial MOCVD capacity."
See related items:
LED backlighting drives Veeco's return to profit
Veeco orders double on booming MOCVD system demand

Search: Veeco MOCVD GaN HB-LEDs TurboDisc K465
Visit: www.veeco.com/mocvd