News
29 July 2010
Aixtron grows revenue 24% in Q2, as order backlog hits €250m
For second-quarter 2010, deposition equipment maker Aixtron AG of Aachen-Herzogenrath, Germany has reported revenue of €191.8m (up 24% on Q1's €154.5m and 238% on just €56.7m a year ago). Growth is supported by ongoing high system demand, fueled mainly by high-brightness LED backlighting and lighting applications, as well as being positively influenced by the stronger US Dollar. This boosted first-half 2010 revenue to €346.3m (up 237% on €102.9m in H1/2009).
"We are unquestionably enjoying a very healthy period of growth, mainly driven by the current and anticipated demand coming from higher LED penetration and emerging LED applications," comments president & CEO Paul Hyland.
Quarterly gross margin has continued to rise significantly, from 41% a year ago and 50% in Q1 to 55% in Q2. This boosted gross margin for H1/2010 to 53%, up from 43% in H1/2009.
Despite some offsetting effects on operating margin from currency hedging and translation expenses, earnings before interest and taxes (EBIT) operating profit has risen from just €4.7m (8% margin) a year ago and €46.4m (30% margin) in Q1 to €60.6m (32% margin) in Q2, representing the fourth sequential quarter of rising EBIT performance. This has driven first-half EBIT operating profit from just €12.3m (12% margin) in H1/2009 to €106.9m (31% margin) in H1/2010.
Quarterly net income has risen from just €3.3m a year ago and €31.8m in Q1/2010 to €42.3m in Q2. Half-year net income has risen from €8.8m in H1/2009 to €74.1m in H1/2010.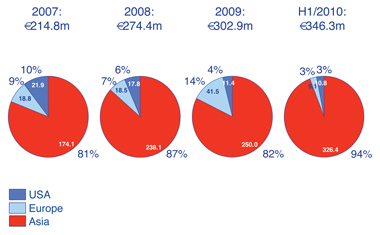 Picture: Aixtron's revenue, by region.
"A combination of the positive volume and performance effect [that] the backlighting applications have had on LED industry yields and efficiencies and the sustained government subsidies [that] we are now seeing are creating tangible momentum in the development of solid-state lighting applications," Hyland says. "This is an early and very encouraging development."
In line with management expectations, quarterly equipment orders continued to rise, to €175.4m in Q2 (up 4% on €168.5m in Q1/2010 and tripling from €57.8m a year ago), continuing the strong demand trend predicted previously. First-half orders have risen 286% from €89.1m in H1/2009 to €343.9m in H1/2010. Of this, about 8% of LED system orders were for new-generation systems (e.g. the 56x2"-wafer capacity AIX G5 and the 55x2"-wafer capacity CRIUS II), launched in Q1/2010.
Order backlog has risen to €250m (up 9% on €229.9m at the end of Q1/2010 and up 129% on €109.4m at the end of H1/2009).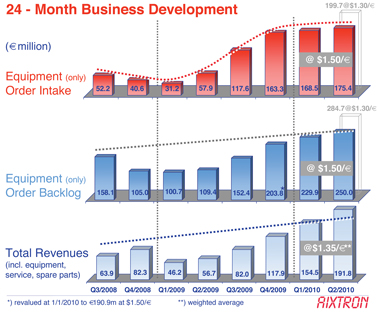 Picture: Aixtron's revenue, order intake and backlog trends over the last 24 months.
Reflecting the current healthy climate, and the recently positive USD/EUR exchange rate development, Aixtron's executive board has again raised its full-year 2010 guidance for revenue to €750m (up on late April's guidance of €650–700m and mid-March's guidance of €600–650m) and for EBIT margin to 33% (up on late April's guidance of 30% and mid-March's guidance of 25%).
"The macro perspective is that the industry is clearly moving from a technical niche market to a more sustainable and larger commodity market, and this development is already having a corresponding effect on the expectations of customers who are demanding better-performing products with better cost of ownership, which in turn is driving shorter product cycles and, for us, increased R&D investments," says Hyland. "We are, I believe, fully prepared and ready at Aixtron for the type of exciting opportunities we will see emerging over the next 3 to 5 years," he concludes.
To meet the rising demand, Aixtron is currently increasing its manufacturing capacity, on target for 150 systems per quarter by the end of 2010.
See related items:
Aixtron grows 31% in Q1; orders up fivefold year-on-year
Aixtron reports 2009 revenue up 10% to a record €302.9m
Aixtron's new-generation AIX G5 achieves productivity targets at Epistar
Visit: www.aixtron.com