News
3 May 2010
Aixtron grows 31% in Q1; orders up fivefold year-on-year
Deposition equipment maker Aixtron AG of Aachen-Herzogenrath, Germany says that continuing healthy demand, beneficial volume effects, and a stronger US dollar have all contributed to the firm's positive performance in first-quarter 2010. The steadily increasing growth (for a fourth sequential quarter) is underlined by record revenue of €154.5m, up 31% on last quarter's €117.9m and 234% on €46.2m in Q1/2009 (which was the trough of the last investment cycle and the height of the global recession).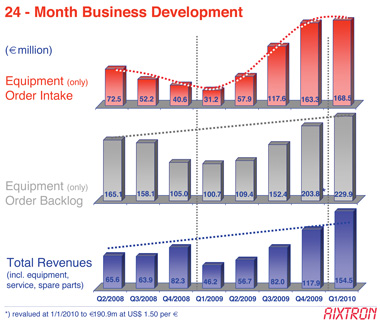 Of total revenue, 92% (€141.4m) came from compound semiconductor deposition equipment, 7% from spare parts & services, and just 1% (€1.6m) from Silicon deposition equipment. Of equipment revenue, 93% is for LED manufacturing, 3% for telecom/datacom components, and 3% for display-related products (with no significant revenues from consumer/optoelectronic or solar equipment). By geographic region, 94% of revenue came from Asia, and just 4% from the USA and 2% from Europe.
Gross margin has risen from 45% a year ago and 47% last quarter to 50%. Due to the much higher volume and the underlying leverage effect, earnings before interest and taxes (EBIT) operating profit increased from just €7.6m a year ago and €33.7m last quarter to €46.4m, representing the third sequential quarter of rising EBIT performance.
Free cash flow has improved from €10.4m a year ago and €30.1m last quarter to €67.8m. Cash & cash equivalents (including cash deposits) rose to €371.6m. Even after excluding net proceeds of €157.6m raised through last October's capital increase, this is still well up on €81.6m a year ago.
Order visibility remains healthy, with a fourth sequential quarter of rising equipment order intake, to €168.5m (up 3% on €163.3m last quarter and more than five times the €31.2m a year ago). Of this, €164.5m is for compound semiconductors (including organics) and just €3.9m for silicon.
Equipment order backlog at the end of March was €229.9m, up 13% on €203.8m at end-December 2009 and more than double the €100.7m a year ago. Almost all backlog will be converted into revenue by the end of this year.
"These Q1 figures build on what was already an excellent foundation for a record performance year in 2010," says president & CEO Paul Hyland. "Consistent performance over the last 12 months has clearly demonstrated that our flexible business model and our product development strategy enables us to not only meet huge rises in demand but also to increasingly drive our profitability through operational leverage," he adds.
"Following the product launch in February, and the very encouraging market response to our latest-generation IC 2 platform system with our Generation 5 Planetary and CRIUS II reactor technologies on board, we are increasingly confident that the timely market-led decisions we have made previously, on technology development and product launch timing, exactly match the current market dynamics," says Hyland. Expecting €240–290m more of new shippable equipment orders by Q3/2010 (joining the €229.9m backlog) plus €25m of additional spares & service revenues in Q2–Q4/2010, Aixtron's executive board has raised its full-year 2010 guidance from €600–650m in revenue and EBIT margin of 25% (given on 10 March) to €650–700m in revenue.
To meet the rising demand, Aixtron is currently increasing its manufacturing capacity. The firm can already ship more than 120 systems per quarter and is targeting 150 systems per quarter by the end of 2010.
"We continue to see strong system demand, principally from customers delivering LED backlighting applications but also from customers addressing lighting applications," Hyland says.
Hyland stresses that LED lighting does not yet constitute the sustainable volume signal that Aixtron is looking for, but adds that it has been a very promising development over the last few quarters. "There are customers out there who are beginning to prepare and invest, in anticipation of an addressable lighting market, and credit must go to those governments who are proactively encouraging this development through regulatory and subsidy initiatives," he adds.
"Some further patience will still be required, but it is a very positive and tangible development and one that played a prominent part in our recent decision to invest more than €40m in a new R&D center [being built near Aixtron's premises in Herzogenrath-Kohlscheid, Aachen County] and to substantially increase our R&D team," Hyland continues. On 14 April, Aixtron held a groundbreaking ceremony for its new R&D center, which will be able to accommodate up to 350 engineers (with the first occupy their new offices by Q4/2010). Aixtron's global staffing has already increased from 621 at end-March 2009 to 731 by end-March 2010.
"We intend to have a new, groundbreaking, high-volume product available when those sustainable volume signals for solid-state lighting are matched by a clearly defined set of performance and cost of ownership criteria that will eventually emerge from the work being done by customers now," says Hyland. "Working closely with key customers gives me the confidence to say that we will have the next generation of Aixtron high-volume production systems available for those customers when the LED industry reaches that key tipping point."
See related items:
Aixtron reports 2009 revenue up 10% to a record €302.9m
Aixtron's 2009 results to far exceed guidance with record revenue and profit
Aixtron's 45% quarterly growth driven by TV backlighting
Aixtron lifts sales guidance on LED market recovery
Aixtron sales fall 44% in Q1/2009
Aixtron's growth in Q4/2008 driven by Asian LED manufacturing

Search: Aixtron
Visit: www.aixtron.com