News
15 July 2010
Osram Opto's sensors complement LEDs in Arquiled street luminaire
Osram Opto Semiconductors GmbH of Regensburg, Germany says that, in addition to using its LEDs, new luminaries made by Arquiled are now also equiped with one of its ambient light sensors, providing intelligent light management and cutting energy costs as its brightness is automatically adjusted to any situation.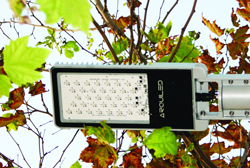 Picture: Arquiled's Arquicity luminaire.
The SFH 5712 digital ambient light sensor regulates the LED's light intensity depending on lighting conditions. Its spectral sensitivity matches that of the human eye, so lighting is regulated perfectly – the brighter the ambient light, the weaker the street luminaires will shine.
Osram Opto's Golden DRAGON Plus LED, which has luminous effiicacy of 100lm/W, has been designed specifically for street lighting and is available in various color temperatures. With a long lifetime of more than 50,000 hours and hence low maintenance, the robust LEDs are suited to lighting roads, pathways and squares, says the firm. Using the LED and ambient light sensor together, local governments can achieve significant cost savings, says Osram Opto.
Another benefit of LEDs for street lighting is their directed light, shining precisely where it is required, so less light is scattered needlessly. Overall, less light needs to be produced to illuminate the road properly. By also adjusting the luminaires with the aid of digital brightness sensors, electricity consumption is reduced further compared with conventional lighting solutions, while the LED's operating life is also increased.
The Arquicity street luminaire is also characterized by the low amount of installation work required, so conventional luminaires can be replaced without a problem, it is claimed. The compact luminaire head, in combination with the optimized directional characteristics of Osram Opto's LEDs, provides light distribution that meets street lighting requirements while also improving safety for road users, the firm adds.
"More than 4000 Arquicity lamps in various projects already provide proof of how efficient state-of-the-art street lighting can be," says Osram Opto's marketing director Rainer Friedrichs. "Intelligent light management is made possible by coordinating the interaction of light sources and sensors based on semiconductors," he adds.
See related item:
Osram Opto's LEDs used in first large-scale deployment of street lighting in Italy

Search: Osram Golden DRAGON Plus LEDs Streetlighting
Visit: www.osram-os.com