News
29 June 2010
IQE appoints Meldrum to main board
Epiwafer foundry and substrate maker IQE plc of Cardiff, Wales, UK has appointed Adrian Meldrum to the firm's main board as business development director.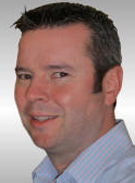 Picture: Adrian Meldrum.
Meldrum will have specific responsibility for further developing the firm's optoelectronic business, which includes consumer optoelectronic product lines, and third generation Concentrator Photovoltaics (CPV). Furthermore, he will be responsible for developing IQE's Solid State Lighting (SSL) business, through the firm's recently acquired NanoGaN subsidiary.
Meldrum, who joined IQE in October 2009, has more than 15 years experience in the optoelectronics market sector. He has held a range of technical and commercial roles with JDSU and more recently, business development and sales & marketing roles at Bookham (now Oclaro), where he was executive vice president and general manager of the Telecom Division.
See related items:
IQE appoints group business development director
IQE completes NanoGaN acquisition
See: IQE Company Profile

Search: IQE
Visit: www.iqep.com