News
9 June 2010
Nitride materials maker Kyma to expand with debt financing from NRDA
Kyma Technologies Inc of Raleigh, NC, USA, which provides crystalline gallium nitride (GaN) and aluminum nitride (AlN) materials and related products and services, has announced its expansion plans along with new financing provided by Neuse River Development Authority (NRDA) of New Bern, NC, a non-profit small business lender serving a 10-county region in eastern North Carolina.
Kyma has doubled its staff over the past two years and is running out of expansion space in its current facility on Midway West Road. A second facility within a mile of its headquarters was recently leased and will be used to house the firm's back-end processing line. This will free up space in the current facility for the addition of several new crystal growth tools, which will support increased production of several current products as well as the development of new product lines.
"This will allow us not only to add new equipment, it also allows us to rethink our overall layout and to reallocate existing space so that we are better positioned to execute on our plans," says Kyma's director of business development Heather Splawn.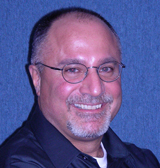 Kyma's expansion will be supported by new financing which the firm closed on last week and which is available through NRDA. "We are hopeful that this is the beginning of a long and mutually satisfying relationship," comments Kyma's president & CEO Keith Evans.
Picture: Kyma's president & CEO Keith Evans.
"Also, we are grateful to our local economic development community, including Bernard Torain of the NC Department of Commerce, Adrienne Cole at the City of Raleigh (Greater Raleigh Chamber), and George Vital of the USDA, for taking the time to understand our needs and ultimately for connecting us to the people at NRDA," he adds.
Kyma says that it is also looking at further growth opportunities, including a large manufacturing facility at a location yet to be determined.
See related items:
Kyma launches AlN and GaN on Si template lines
Kyma and RPI search m-plane GaN for LED wavelength stability
Kyma wins $2.8m DoD funding for low-defect GaN development

Search: Kyma Substrates GaN AlN
Visit: www.kymatech.com
Visit: www.nrda.org