News
18 March 2010
Plasma-Therm joins Fab Owners Association to share dry etch and PECVD insights
Plasma-Therm LLC of St. Petersburg, FL, USA, a global supplier of plasma process equipment, says it has joined the Fab Owners Association (FOA).
"Members like Plasma-Therm are extremely important to our trade association: They bring tomorrow's solutions to our device maker members today," said L.T. Guttadauro, executive director of the FOA. "We are happy to have Plasma-Therm as one of our newest members."
Through active membership participation, Plasma-Therm says it will provide insight into common practices and offer solutions to problems in dry etch and PECVD technologies.
"The Fab Owners Association gives key industry players a valuable forum to discuss relevant issues and share solutions that will benefit technological advancement in many different markets," said Abdul Lateef, CEO of Plasma-Therm.
Plasma-Therm offers both dry etch & PECVD technologies, catering to various specialty markets, including: photomask, solid state lighting, thin film head and compound semiconductor.
Last month, the firm celebrated its first year of independence, after undergoing a management buyout to separate from Oerlikon in January 2009.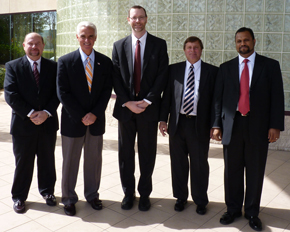 Picture (left to right): Ed Ostan, executive VP of Sales & Marketing; Florida Governor, Charlie Crist; Russ Westerman, CTO; Jim Pollock, COO; and Abdul Lateef, CEO, celebrate Plasma-Therm's first year of independence.
See related items:
Plasma-Therm celebrates first year of independence and reports positive financial results for FY/2009
Plasma-Therm sells multi-module ICP etch system to III-V foundry

Search: Plasma-Therm Etch PECVD
Visit: www.plasmatherm.com