News
29 October 2010
alwitra completes largest Solyndra installation in Germany
Solyndra Inc of Fremont, CA, USA, which manufactures copper indium gallium diselenide (CIGS) photovoltaic (PV) systems for commercial rooftops, says that roofing system maker alwitra GmbH of Trier, Germany has completed a 1.02MWp solar system (incorporating alwitra's highly reflective Evalon waterproofing membrane and Solyndra solar panels) for a warehouse belonging to motorcycle accessories distributor Parts Europe GmbH of Konz, near Trier. The system is the largest Solyndra system in Germany to date, and the second largest worldwide. Alwitra is a Platinum Solyndra Solution Partner.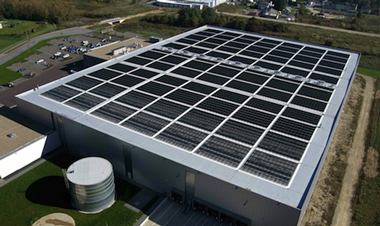 The project covers 13,000m2 of rooftop with Evalon waterproofing membrane and about 10,700m2 of rooftop with more than 5400 Solyndra panels (involving more than 33,000m of cabling). The project generates 1.023MWp (equivalent to the annual power needed to supply 250 households).
"On a rooftop of this size, Parts Europe gets strong benefits from the highly reflective Evalon waterproofing membrane and the power generation of the Solyndra solar system," says Clemens Jargon, Solyndra's president of EMEA and managing director of Solyndra GmbH of Holzkirchen, Germany. "alwitra's extensive knowledge of roof sealing and Solyndra's PV systems allowed them to complete the entire project in less than 10 weeks," he adds.
"The location and size of Parts Europe's warehouse is absolutely predestined for the use of solar power generation," reckons alwitra's president Joachim Gussner. "The unique design of Solyndra's cylindrical, non-penetrating and very light panels made them the best solution for this large project," he adds. "Using Solyndra with our Evalon waterproofing membrane allows us to offer the building owner the best combination of roof sealing solution and a solar system that actually gets more power as a result of the reflective qualities of the roof."
See related items:
Solyndra to supply CIGS PV panels to roofing firm alwitra
Visit: www.alwitra.de
Visit:
www.solyndra.com
For more: Latest issue of Semiconductor Today