News
2 December 2009
Solyndra to supply CIGS PV panels to roofing firm alwitra
Solyndra Inc of Fremont, CA, USA, which was founded in 2005 to manufacture copper indium gallium diselenide (CIGS) photovoltaic (PV) systems for commercial rooftops, has signed a new long-term framework agreement to supply solar panels to roofing system maker alwitra GmbH & Co of Trier, Germany.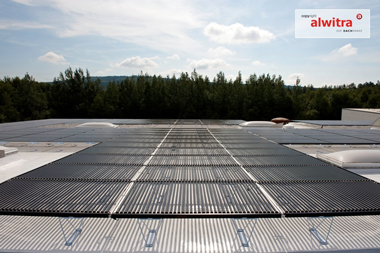 Picture: alwitra's Solyndra array.
"With alwitra's global presence and their award-winning line of highly reflective Evalon roofing membranes, this agreement builds on the benefits of Solyndra PV installations on reflective commercial rooftops and will expand our footprint in the important roofing channel," says Solyndra's CEO & founder Chris Gronet.
Solyndra's proprietary cylindrical thin-film solar panels are built from tubes. This 'self-tracking' design — with a 360º photovoltaic surface capable of absorbing direct, diffuse and reflected sunlight (from below) — allows the capture of more sunlight from low-slope commercial rooftops than conventional flat-surfaced solar panels, which need costly tilted mounting devices to improve the capture of direct light from the sun, offer poor collection of diffuse light, and fail to collect reflected light. Also, gaps between the tubes and their frame let wind pass through, reducing the need for heavy, roof-penetrating fastenings or anchoring; their lighter weight also allows installation on scantier roofs. Simple horizontal mounting hardware also allows fast and economical installation, claims the firm.
alwitra has sealed a roof area of more than 140 million square meters worldwide with its roofing systems. Almost four decades ago, alwitra pioneered the production of light-reflecting EVA roofing membranes in the sense of the current 'cool roof' concept. "The optimal solution is the combination of Solyndra's innovative PV system with our tried-and-tested, highly reflective white EVALON roofing membrane," says managing director Stefan Rehlinger. "The Solyndra system is the best we've found in terms of non-penetrating wind performance, energy production per roof, rooftop loading, and installation cost, and builds on our 10 years of success in solar with our building-integrated EVALON Solar system," he adds.
"We look forward to working with Solyndra to capitalize on the vast opportunity presented by this synergistic relationship," adds alwitra's president Joachim Gussner.
See related items:
CIGS firm Solyndra signs $105m deal with Italian PV integrator Sun System
CIGS PV maker Solyndra breaks ground on 500MW Fab 2
Solyndra secures $535m DoE loan guarantee
Visit: www.alwitra.de
Visit: www.solyndra.com