News
22 September 2010
Toyoda Gosei, Epistar and Twin Hill forming Taiwan LED-making JV
Japanese LED chip maker Toyoda Gosei Co Ltd, its Taiwan LED sales agent Twin Hill Co Ltd and Taiwan's largest LED chipmaker Epistar Corp have agreed to establish (in November) a Taipei-based joint venture — tentatively named TE OPTO Corp — to develop, manufacture and market LEDs. Ownership will be 51% Toyoda Gosei (with four directors), 40% Epistar (with two directors) and 9% Twin Hill (with one director). Initial capitalization is NT$23m (about ¥60m).
Toyoda Gosei has worked with Epistar since 2006, outsourcing production of some of its LED products. Just last week, Toyoda Gosei and Epistar signed a cross-license agreement allowing the firms (and their subsidiaries) to use each other's patents for specific technologies in Group III-V LEDs, include InGaN-based (blue and green) LEDs and red AlGaInP-based (red and orange) LEDs. Epistar holds patents for high-brightness AlGaInP LEDs and high-power InGaN LEDs, and Toyoda Gosei likewise owns patents for InGaN LEDs. According to Epistar, Toyoda Gosei is among the five main patent holders in the LED industry (along with Japan's Nichia Corp, the US-based Cree Inc and Philips Lumileds Lighting Co, and Germany's Osram GmbH).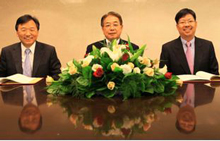 Picture: Epistar chairman B.J. Lee (left), Toyoda Gosei Hajime Wakayama president (center) and Twin Hill president Philip Cheng (right).
Through the new joint venture, Epistar and Toyoda Gosei aim to tap into each other's strengths, combining Toyoda Gosei's LED technology with Epistar's low-cost manufacturing capabilities in order to expand the partners' sales of low-cost LED products in the growing market for illumination applications.
The JV's short-term target is for annual sales equivalent to about ¥5bn by the fiscal year to end-March 2012.
See related items:
Toyoda Gosei and Epistar sign LED-related patent cross-license agreement
Industry insiders expect Epistar to sign patent cross-licensing agreement with Japan's LED giants

Search: Epistar Toyoda Gosei InGaN AlGaInP LEDs
Visit: www.epistar.com.tw
Visit: www.toyoda-gosei.com
For more: Latest issue of Semiconductor Today