News
17 September 2010
Sumitomo extends 40GbE transceiver reach from 10km to 40km
Tokyo-based optical component and module maker Sumitomo Electric Industries Ltd (SEI) is expanding its optical portfolio with the introduction of a 40GbE transceiver module for 40km reach, to be showcased at the 36th European Conference and Exhibition on Optical Communications (ECOC 2010) in Turin, Italy next week (20-22 September).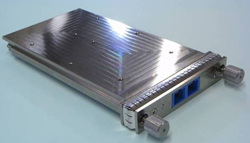 The optical transceiver complies with the CFP multi-source agreement (MSA) hardware and software specification and can support 40km link distance over standard single-mode fiber.
Picture: The first 40GbE CFP transceiver for 40km reach.
To alleviate future core network bandwidth shortage due to the rapid growth of the IP traffic volume, the Institute of Electrical and Electronics Engineers (IEEE) has standardized 40 Gigabit and 100 Gigabit Ethernet under the 802.3ba Task Force. In parallel, Sumitomo Electric - together with three other major optical component vendors, Finisar Corp, Opnext Inc and Avago Technologies - has been leading the CFP MSA for next-generation form factor, which was announced in March 2009 at the Optical Fiber Communication Conference and Exposition (OFC 2009) in San Diego.
Sumitomo Electric has already released a 40GbE CFP optical transceiver for 10km reach (a year ago, at ECOC 2009). It has now developed what is claimed to be the world's first 40GbE CFP for 40km reach by using a high-speed four-wavelength coarse wavelength division multiplexing (CWDM) laser diode for the transmitter and a high-speed avalanche photo-diode (APD) for the receiver. Maximum power consumption is compliant with CFP MSA power class 1 (8W maximum) and is the same value as the 10km-reach 40GbE CFP.
Sumitomo Electric plans sample shipments of 40km-reach 40GbE CFP transceivers for first-quarter 2011 and mass production (at subsidiary Sumitomo Electric Device Innovations Inc) for fourth-quarter 2011.
See related items:
Sumitomo Electric unveils 40GbE transceiver module for 10km transmission

Search: Sumitomo 40GbE transceiver
Visit: http://global-sei.com
For more: Latest issue of Semiconductor Today