4 December 2014
Cree's 1200V, 25mΩ SiC MOSFET named one of EDN's Hot 100 Products of 2014
Cree Inc of Durham, NC, USA, which manufactures silicon carbide (SiC) and gallium nitride (GaN) wafers and devices, says that EDN (Electronic Design News) has named its C2M0025120D 1200V, 25mΩ SiC MOSFET as one of the 'Hot 100 Products of 2014'. Chosen by EDN's editors and readers, the 2014 EDN Hot 100 recognizes the electronics industry's most significant products of the year based on innovation, significance, usefulness, and popularity.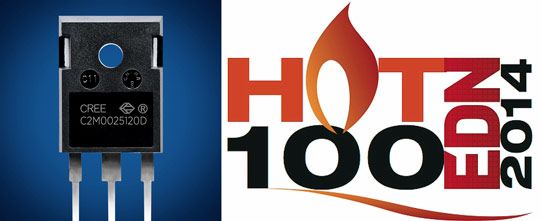 Launched in May, the C2M0025120D is claimed to be the first commercially available 1200V SiC MOSFET with an RDS(ON) of 25mΩ in an industry-standard TO-247-3 package. Based on Cree's proven C2M SiC MOSFET technology, the new device has a pulsed current rating (IDS Pulse) of 250A (making it suitable for pulsed power applications) and a positive temperature coefficient (allowing it to be paralleled to achieve even higher power levels). Additionally, the higher switching frequency can help design engineers to reduce the size, weight, cost and complexity of power systems in applications including: PV inverters, high-voltage DC/DC converters, induction heating systems, electric vehicle (EV) charging systems, and medical CT (computer tomography) applications.
The new MOSFET has already been proven to provide a 5x reduction in switching losses, higher power density, and improved thermal characteristics in medical CT applications, claims Cree, as well as to reduce installation costs for rooftop photovoltaic (PV) inverters by enabling a compact and highly efficient 50kW grid-tied solar inverter with a power-to-weight ratio of 1kW/kg.
"One of the most important objectives for power engineers is to build smaller, cooler and lower cost power conversion solutions," says Edgar Ayerbe, Cree Power Marketing. "Our new 1200V, 25mΩ SiC MOSFET can help achieve these goals," he adds.
Cree introduces first 1200V/25mΩ MOSFET in TO-247 package
Cree begins volume production of second generation SiC MOSFET
Tags: Cree SiC MOSFET
Visit: www.cree.com/Power/Products/MOSFETs/TO247/C2M0025120D
Visit: www.edn.com/electronics-products/other/4437460/EDN-Hot-100-products-of-2014