19 June 2014
First Chinese supplier enters top 10 ranking of packaged LED makers
China's massive investments in LED manufacturing capacity are paying off, with a Chinese company entering the top 10 global ranking (by revenue) of packaged LED makers for the first time, according to the IHS LED Intelligence Service of market research firm IHS Technology.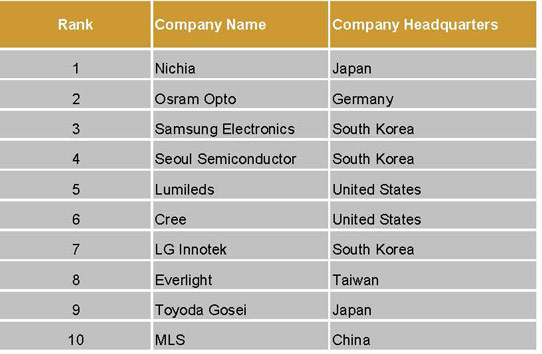 China's MLS Electronics Co Ltd rose from 14th place in 2012 to 10th in 2013. The other top 10 players are based in Japan (Nichia 1st and Toyoda Gosei 9th), Germany (Osram Opto 2nd), South Korea (Samsung Electronics 3rd, Seoul Semiconductor 4th and LG Innotek 7th), the USA (Lumileds 5th and Cree 6th), and Taiwan (Everlight 8th).
"Since 2011, most of the new LED production capacity that has been added worldwide has occurred in China," says Jamie Fox, principal LED analyst for IHS. "Because of this, it was inevitable that Chinese companies eventually would penetrate the ranks of the top 10 LED suppliers," he adds. "MLS was first to join the global elite, having established itself as the clear leader in the Chinese market by capitalizing on strong domestic demand. For the major suppliers, MLS' ascent into the market's upper ranks represents a clear signal that Chinese firms soon will become major competitors in the global LED business."
China's LED market lights up
MLS is one of many Chinese LED suppliers that have sprung up amid the surge in production. However, the other firms do not even rank among the top 20 global suppliers, notes IHS. China's LED supply base is massive and highly fragmented, with thousands of small manufacturers located across the country.
"Despite leading the domestic market, MLS accounted for less than 10% of Chinese LED revenue in 2013," says Alice Tao, China LED analyst at IHS. "The next five largest LED suppliers in China represented only about 20% of the market."
With the rise of LED manufacturing capacity in China, concerns have risen relating to overcapacity. Some of the equipment purchased for metal-organic chemical vapor deposition (MOCVD) manufacturing is now sitting idle in China.
Observers have fretted that the overcapacity could result in the shutdown of some Chinese suppliers, notes IHS. However, so far only a few of the smaller Chinese vendors have closed their LED operations. Most of the top companies remain active in the market, with some posting strong profit margins.
Insular market goes global
MLS and the smaller Chinese suppliers mostly compete among themselves for a share of the large domestic LED market. The international portion of sales for these companies is hence very small.
At the same, the extremely low prices in the Chinese market make the country inaccessible to overseas suppliers. Because of this, foreign LED makers do not encounter Chinese competitors very often.
But that situation will change rapidly, it is forecast. IHS expects the LED revenues of Chinese vendors to grow steadily over time, as the country's economy continues to grow strongly. Because of this, Chinese LED suppliers will begin to sell more internationally and come into competition with foreign rivals.
Barriers to entry
Both intellectual property and quality are concerns for international customers considering Chinese suppliers. However, several factors suggest that these concerns could be alleviated over time. These include patent expirations, China's established history in other industries, the sheer volume of manufacturing capacity in the country, and the fact that many LED lamps are assembled in China.
So far, top-tier LED suppliers such as Nichia, Osram, Lumileds and Cree have seen only a small impact from Chinese vendors on their sales, especially in the general lighting market in regions such as Europe and the Americas. However, this will not necessarily be the case by the end of the decade, says IHS.
For instance, MLS has started 2014 on a strong note, and may have even ranked among the IHS top 10 LED suppliers in the first quarter.
China's LED die revenue to grow 36.6% in 2014 to $1475m
Tags: LED market
Visit: www.ihs.com