6 May 2014
Veeco's revenue rises 24% in Q1, driven by MOCVD recovery
For first quarter 2014, epitaxial deposition and process equipment maker Veeco Instruments Inc of Plainview, NY, USA has reported revenue of $90.8m, up 24% on $73.2m last quarter and 47% on $61.8m a year ago.
Growth was driven mainly by LED & Solar revenue rising to $70.8m, up 26% on $56.5m last quarter and 67% on $42.3m a year ago. Of this, metal-organic chemical vapor deposition (MOCVD) revenue was $64m, up 28% on $50m last quarter. Molecular beam epitaxy (MBE) revenue was about $6.8m, up from $6m last quarter. Data Storage revenue was $20m, up 18% on $17m last quarter but just 2.5% on $19.5m a year ago.
"After a long downturn in our MOCVD business, LED fab utilization rates have improved to high levels at most key accounts and LED adoption is happening faster than many had expected," comments chairman & CEO John Peeler. "Our customers are also reporting better market demand for LED backlighting products," he adds.
"Q1 was a significant improvement over the last quarter with higher revenue, better margins and lower OpEx [operating expenditure]," says chief financial officer & executive VP David Glass.
After plunging from 31% in Q3/2013 to just 21% in Q4, gross margin spiked to 37% in Q1 (above the expected 33-35%), due the higher sales volumes being supplemented by a very favorable mix of higher-priced product. After spiking up from $39m in Q3/2013 to $48m in Q4 (due to a few non-recurring items), OpEx has been cut back to $41m (below the expected $42-43m).
Benefiting from the higher sales volume, improvement in gross margin, and lower OpEx, non-GAAP adjusted EBITA (earnings before interest, taxes and amortization) has been cut from a loss of -$15.7m a year ago and a peak of -$26.6m last quarter to just -$2.7m in Q1. This was mainly due to a loss of -$0.65m from Data Storage (cut from -$3.1m last quarter, but compared with a profit of +$0.38m a year ago) plus unallocated corporate loss of -$4.2m, outweighing an adjusted EBITA profit from LED & Solar of +$2.1m (compared with losses of -$16.5m last quarter and -$11.2m a year ago). This is despite the LED & Solar segment now also including Veeco's atomic layer deposition (ALD) business (Synos Technology, acquired last October) and hence carrying all of the pre-revenue ALD costs being incurred.
Net loss has been cut from $7.5m ($0.19 per share) a year ago and a peak of $16.4m ($0.42 per share) last quarter to $2.4m ($0.06 per share).
As forecasted, investments in next-generation products and in growth businesses caused cash and investments to decline modestly during the quarter, from $495m to a still strong $483m. In particular, cash in short-term investments fell (from $281.5m to $267.4m) as Veeco builds working capital.
For the second consecutive quarter, Veeco's book-to-bill ratio was over 1. Specifically, orders were $102.6m, up 21% on $85m last quarter and 46% on $70.4m a year ago (and the highest in nearly two years). Data Storage orders fell from $27.7m a year ago and $21.6m last quarter to $15.4m. LED & Solar orders have risen to $87.1m, up 37% on $63.3m last quarter and more than doubling from $42.7m a year ago. Since MBE orders more than halved sequentially from $11m to $5m, the increase was driven by a 59% rise in MOCVD orders from $52m to $83m (up from just $37m a year ago, and the highest since third-quarter 2011). Orders were received from top LED customers throughout Asia and elsewhere. "Our leading customers are beginning to place orders for capacity expansions," notes Peeler. During the quarter, overall order backlog rose from $143m to $155m.
For second-quarter 2014, Veeco expects revenue of $87-97m. Net loss is expected to rise to $9.2-5.6m ($0.23-0.14 per share). Due mainly to a weaker product mix, gross margin should fall back to 30-32%. OpEx will rise again temporarily (to $42-43m) due to annual salary increases and equity compensation, as well as some duplicate costs as Veeco moves forward on a cost-saving geographic footprint consolidation of one its businesses. "In second-half 2014, we have planned to scale back OpEx by a couple of million dollars quarterly, as the impact of cost-reduction measures take hold," notes Glass.
"On our earnings call last quarter, we discussed our plans to bring margin back over 40% through the introduction of new products, cost reductions and increase volumes," continues Glass. "Although it is not likely we will get there this year, we do expect to see some improvements in our margins during the second half of 2014, hopefully moving us more solidly into the mid-30s range," he adds.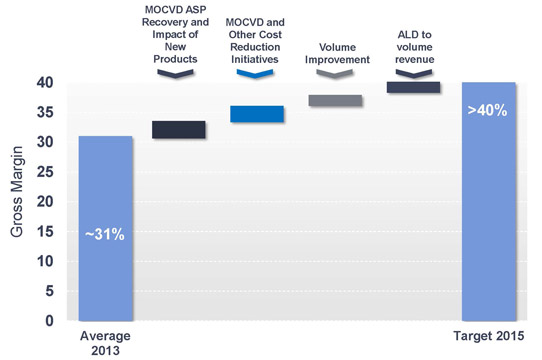 Graphic: Veeco's plan for gross margin recovery.
Q2 orders should be similar to or better than Q1, with continued strength in MOCVD. "Yet, the timing and magnitude of key customer expansions could cause MOCVD orders to be lumpy and somewhat unpredictable on a quarterly basis, and we lack the visibility to see into the second half of the year," comments Peeler. "We continue to invest in MOCVD product and technology development to further improve our customers' cost of ownership and manufacturing capability," he adds.
"We are pleased to have made progress improving Veeco's profitability and remain focused on our strategy to turn around our performance by: (1) developing and launching game-changing new products that enable cost-effective LED lighting, flexible OLED encapsulation and other emerging technologies; (2) improving customer cost of ownership as well as our gross margins; (3) driving process improvement initiatives to make us more efficient; and (4) lowering expenses," Peeler concludes.
Veeco's Q4 revenue falls by a third year-on-year
Veeco's Q3 revenue flat sequentially, down 25% year-on-year
Veeco's orders rebound by 21% to $85m in Q2, driven by MOCVD orders rising 40%
Challenged Veeco sees MOCVD orders fall 42% in Q1
Visit: www.veeco.com