6 November 2014
Aixtron launches AIX R6 next-generation MOCVD system
At the 11th China International Forum on Solid State Lighting (SSL CHINA 2014) in Guangzhou (6-8 November), deposition equipment maker Aixtron SE of Aachen, Germany has launched its next-generation metal-organic chemical vapor deposition (MOCVD) system. Designed for the mass production of LEDs based on gallium nitride (GaN), the new AIX R6 can be delivered in 12x6-, 31x4- and 121x2-inch wafer configurations. The firm says that technical innovations allow the new tool to lower operational costs significantly while simplifying usability and process control.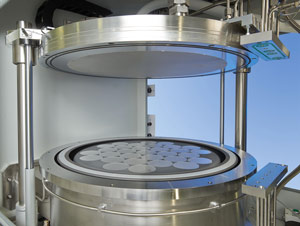 Picture: Aixtron's new AIX R6 MOCVD system.
"Our new AIX R6 addresses the most important challenges that LED manufacturers face today: highly competitive markets with consistently decreasing device prices driving the need for production equipment with lower cost of ownership," says CEO & president Martin Goetzeler. "The AIX R6 is designed to fulfill our customers' needs for highly efficient production, enabling them to optimize their cost of manufacturing," he adds. "The groundbreaking order we have received from [China-based] San'an Optoelectronics [in late September, for 50 systems] proves that our new AIX R6 already convinced a key market player through its performance and value proposition ahead of today's official launch of the tool."
The AIX R6 is based on Aixtron's Close Coupled Showerhead (CCS) concept, which has achieved a high level of recognition in numerous markets, says the firm, being particularly known for its chemical efficiency and intrinsic deposition uniformity. The AIX R6 enables what is reckoned to be a more than 30% improvement in cost of ownership and a throughput increase of more than 120% compared to current-generation systems.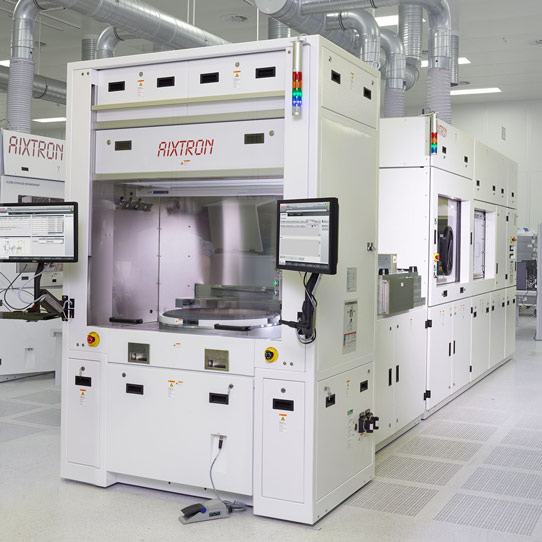 Picture: The AIX R6 reactor with showerhead in 31x4-inch configuration.
"We put great emphasis on maximizing the throughput by greater capacity, more automation, increased reliability and longer uptime," stresses chief technology officer Andreas Toennis. "Improved process control through enhanced temperature monitoring and control systems is another key feature of the AIX R6," he adds. "A new process control system eliminates temperature variation for increased reproducibility and yield, and also enables shorter cycle times and fast calibration."
Rival epitaxial deposition and process equipment maker Veeco Instruments Inc of Plainview, NY, USA recently launched its own new-generation TurboDisc EPIK700 GaN MOCVD system, which accommodates 31x4", 12x6" and 6x8" wafer carrier sizes.
China's San'an expands by ordering 50 Aixtron MOCVD systems
Veeco launches 31x4"/12x6"/6x8"-wafer EPIK700 GaN MOCVD system
Visit: www.aixtron.com
Visit: www.sslchina.org/en