6 April 2015
Taiwan's AWSC buys ClassOne's Solstice S8 electroplater
ClassOne Technology of Kalispell, MT, USA, which manufactures wet-chemical processing equipment (especially for cost-conscious emerging markets and users of smaller substrates), has delivered a fully automated Solstice S8 electroplating system to gallium arsenide (GaAs) foundry Advanced Wireless Semiconductor Company (AWSC) of Tainan Science-based Industrial Park, Taiwan, to be used for volume manufacturing processes such as lead-free wafer-level packaging (WLP) and through-wafer vias (TWV) for RF and other micro-devices.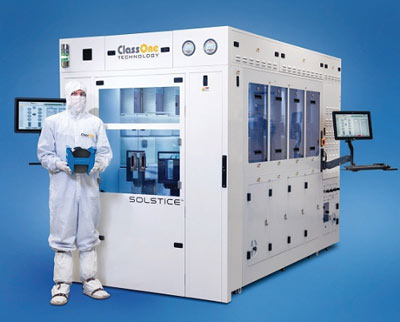 Picture: ClassOne's Solstice electroplating system. Picture: ClassOne's Solstice electroplating system. Picture: ClassOne's Solstice electroplating system.
"Foundries often need to weigh performance and price carefully, and we believe the S8 strikes the right balance," says ClassOne's VP of technology Kevin Witt. "For example, the Solstice can enable a customer to move copper pillar, nickel, tin bump, and Cu backside via production from several wet benches onto a single automated tool that gives a better process result and higher productivity. In addition, ClassOne supports customers with process development and deployment every step of the way," he adds. 
"Solstice fills a void in the market between wet benches on the low end and the large, expensive 300mm plating systems on the high end," says Win Carpenter, ClassOne's VP of global sales. "The Solstice S8 was designed to provide advanced plating performance at a reasonable cost for everyone who manufactures on 200mm and smaller substrates. Those users include many emerging markets such as MEMS, LEDs, RF, power, and sensors."
The Solstice electroplating systems were introduced in 2014 and are available in fully automated 4- and 8-chamber configurations that deliver up to 75 wafers per hour (wph) of capacity. The Solstice family handles substrates up to and including 200mm, whether transparent or opaque, and performs key processes such as electroplating of various metals and alloys. Solstice pricing is less than half that of similarly configured 300mm plating systems outfitted for 200mm from the large manufacturers, it is claimed.
ClassOne launches electroplating tool for smaller-substrate users
ClassOne Equipment expands Wet Processing Division with new subsidiary
Tags: ClassOne AWSC GaAs foundry MMIC
Visit: www.awsc.com.tw
Visit: www.classone.com/products