22 April 2015
Custom MMIC launches 4-8GHz GaN LNA for high RF power survivability
Monolithic microwave integrated circuit (MMIC) developer Custom MMIC of Westford, MA, USA added to its standard product catalog by launching a gallium nitride (GaN) low-noise amplifier (LNA) housed in a leadless 4mm x 4mm ceramic package that can withstand RF input power levels of up to 5W without permanent damage.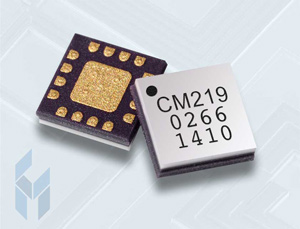 The CMD219C4 is a broadband MMIC low-noise amplifier fabricated in GaN technology that operates at 4-8GHz with a gain of 22.5dB, a noise figure of 1.0dB, and a P1dB (output 1dB compression point) of +17dBm.
The device is suitable for microwave radios and C-band applications where small size and high input power survivability are needed, such as point-to-point and point-to-multipoint radios, military and space, and test instrumentation.
Custom MMIC launches 4-8GHz GaN LNA

Custom MMIC launches 5-9GHz GaN LNA
Tags: Custom MMIC GaN power amplifiers LNA
Visit: http://custommmic.com/Product-Library/Amplifiers