13 April 2015
GaN Systems signs Vitec as distributor in Japan, Taiwan and China
GaN Systems Inc of Ottawa, Ontario, Canada, a fabless producer of gallium nitride (GaN)-based power switching transistors based on its proprietary Island Technology for power conversion and control applications, has signed an agreement with Tokyo-based electronics trading firm Value Integrated Technology Co Ltd (Vitec) to distribute its Island Technology high-power GaN devices to its customer base in Japan, Taiwan and China.
GaN Systems claims to be the first company to have developed and productized a comprehensive portfolio of gallium nitride enhancement-mode high-electron-mobility transistor (E-HEMT) power devices with current ratings from 7A to 220A, in both 650V and 100V. The firm's Island Technology die design - combined with the extremely low inductance and thermal efficiency of  GaNPX packaging and Drive Assist technology - provides its GaN E-HEMTs with what is reckoned to be 40x improvement in switching and conduction performance over silicon MOSFETs and IGBTs.
"Vitec has a strong presence in the consumer and enterprise segments and has links with major brand-name manufacturers," comments GaN Systems' CEO Jim Witham. "Demand for our GaN power switching transistors is growing very rapidly as manufacturers seek to design smaller, lighter and more power-efficient products in order to gain competitive edge. Multiple consumer and enterprise products designed with our GaN devices will be launched starting in 2015… Vitec and GaN Systems will expand this reach substantially," he adds.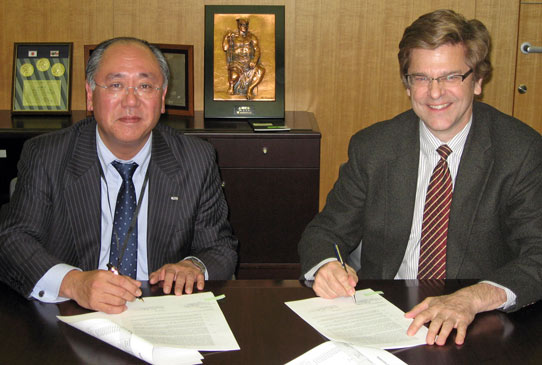 Picture: Vitec's VP semiconductor sales Akira Sasaki and GaN Systems' CEO Jim Witham.
"We are very excited about the growth of GaN E-HEMT power switch designs in consumer and enterprise applications," says Vitec's VP of marketing Osamu Komaki. "Additionally, Vitec is expanding into industrial and automotive markets, and GaN Systems has a very strong portfolio of higher-current GaN power switches for high-power applications in these sectors. GaN Systems' product portfolio also complements Vitec's existing businesses in solar inverter and infrastructure power," he adds.  
"Vitec's core businesses and customers complement our existing network in Asia, and Vitec also has excellent potential to expand across multiple market sectors," says Charles Bailley, GaN Systems' senior director, marketing & sales, Asia. "GaN Systems has many existing design wins with our GaN E-HEMTs, and we are looking forward to accelerating this growth further with Vitec."
GaN Systems signs Websolus as distributor in South Korea and China
GaN Systems adds Ecomal Europe as distributor of GaN power switching transistors
GaN Systems appoints Daito Electron as Japan and Korea distributor
GaN Systems signs exclusive worldwide distribution deal with Mouser Electronics
Tags: GaN Systems Power electronics
Visit: www.gansystems.com
Visit: www.vitec.co.jp