1 April 2015
GaN MOCVD reactor installations to total 220 in 2015
Due to the major aggressive expansion plans of some Chinese LED companies, 220 gallium nitride (GaN) metal-organic chemical vapour deposition (MOCVD) reactors will be installed in 2015, according to the latest data from the IHS LED Intelligence Service. This large number of MOCVD tool shipments will result in a 28% increase in the level of excess supply in the LED industry, forecasts market research firm IHS.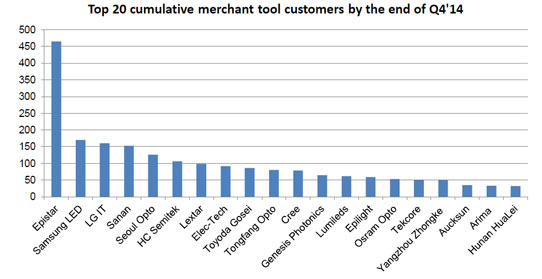 The new capacity expansion is slightly different from what happened several years ago, when large numbers of LED companies in China purchased government-subsidized tools, notes IHS.

The firm forecasts that this year only large and publicly traded companies will purchase MOCVD systems. The bar chart above shows the largest 20 MOCVD customers by the end of 2014: eight are Chinese companies and three of those - Sanan, HC Semitek and Aucksun - have announced expansion plans for 2015.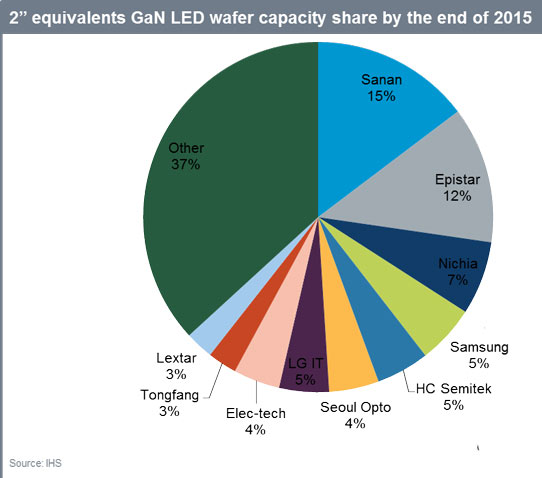 Most of the new reactors purchased in 2015 will be new-generation tools, which provide double the capacity per reactor. By the end of 2015, Sanan is projected to lead in 2-inch-equivalent wafer capacity share, although Epistar will still own the largest number of MOCVD tools (see pie chart). The three largest Chinese firms will achieve a combined market share of 27% in 2015, concludes IHS.
Epistar to jump from 11% to 15% of global GaN epi capacity after FOREPI merger
China's San'an to overtake Epistar in GaN LED wafer capacity by end 2014
Tags: GaN MOCVD LEDs Epistar Sanan OptoElectronics
Visit: https://technology.ihs.com/Services/467369/