27 April 2015
Solar Frontier completes construction of Tohoku Plant and begins ramp-up
Tokyo-based Solar Frontier - the largest manufacturer of CIS (copper indium selenium) thin-film photovoltaic (PV) solar modules - has completed construction of its fourth production plant. The new 150MW Tohoku Plant in Miyagi, Japan, is now moving into the ramp-up phase.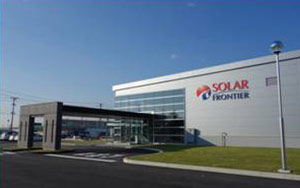 Picture: Exterior of Tohoku Plant.
As a cornerstone in the firm's global growth strategy, based on the proven production process at its existing 900MW Kunitomi Plant in southern Japan, the Tohoku Plant features upgrades to Solar Frontier's existing CIS production lines using technology developed at its Atsugi Research Center. The new plant also serves as a model for Solar Frontier's future production plants as it looks to expand its global production footprint. The firm will use the ramp-up phase to test and verify its latest CIS line technology, while also including what it learns during this period.
The introduction of the new plant comes as Solar Frontier works to bring its CIS technology to more customers worldwide. Compared with crystalline silicon, CIS modules generate a higher energy yield (kilowatt-hours per kilowatt-peak) in real-world conditions. The Tohoku Plant is intended to build on the performance advantages of CIS with new product upgrades. This includes module conversion efficiencies of over 15% and adjustments to the voltage and current of its CIS thin-film modules, enabling more freedom in system design, says the firm.
Solar Frontier installing enhanced CIS production lines in new Tohoku Plant
Tags: Solar Frontier CIS thin-film PV modules
Visit: www.solar-frontier.com