18 August 2015
GaN Systems adds director, product line management as part of strategic growth
GaN Systems Inc of Ottawa, Ontario, Canada - a fabless producer of gallium nitride (GaN)-based power switching transistors based on its proprietary Island Technology for power conversion and control applications - has appointed Peter Di Maso as director, product line management.
The newly created position is part of the firm's strategic growth and headcount increase at all levels as it ramps up production of its Island Technology GaN devices to supply global demand from design engineers.
Di Maso will be responsible for creating and executing a sustainable product and market strategy to achieve GaN Systems' business growth objectives. Working with customers, sales teams and development teams, he will lead and execute the development of new product ideas.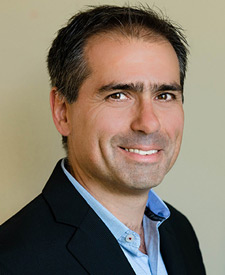 Picture: Peter Di Maso, GaN Systems' new director, product line management.
"Peter joins us with more than 20 years' experience in the power electronics industry," comments president Girvan Patterson. "Peter's background includes strategic product marketing at Texas Instruments, expertise in automotive ICs gained at Allegro Microsystems and an early career as a power supply design engineer at Bell-Northern Research," he adds. "This is an extremely relevant portfolio of experience and skills, and places him in a perfect position to lead teams dovetailing our innovative GaN technology with creative customer solutions."
Di Maso has a Bachelor of Engineering degree (Electrical) from Concordia University in Montreal and is currently completing an MBA at Southern New Hampshire University in Manchester, NH, USA.
GaN Systems claims to be the first company to have developed and productized a comprehensive portfolio of GaN E-HEMT power devices with current ratings from 7A to 250A, in both 650V and 100V ranges. Its Island Technology die design, combined with its extremely low inductance and thermally efficient GaNPX packaging and Drive Assist technology, provides a 40-fold improvement in switching and conduction performance over traditional silicon MOSFETs and IGBTs.
GaN Systems appoints vice president of operations
GaN Systems raises $20m in Series C financing
GaN Systems expands into new HQ and R&D facility
Tags: GaN Systems Power electronics
Visit: www.gansystems.com