3 December 2015
Osram launches IRED in low-profile Synios package for eye tracking in mobile devices
Osram Opto Semiconductors GmbH of Regensburg, Germany has launched the SFH 4770S, which it claims is the most compact infrared LED (IRED) in the high-power class. Its low height is especially beneficial in smartphones and tablets, says the firm, because its high optical output of 1200mW (typical) and broad emission characteristics make it suitable for facial recognition and eye-tracking systems that can activate applications in response to eye blinking instead of the usual double-click.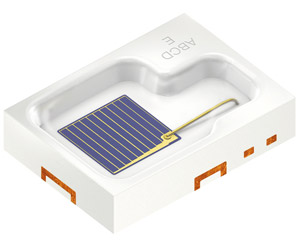 Picture: The 1200mW SFH 4770S IRED, which has a height of just 0.6mm and a footprint of 5.4mm2
The basis for the new emitter is the compact (2.7mm x 2.0mm x 0.6mm) Synios package (introduced in 2014 for LEDs in the visible spectral range for automotive applications), which provides optimum light extraction. The SFH 4770S is the first component in which this package has been used for infrared emitters. Installed in the IRED is a 1mm2 emitter chip with a wavelength of 850nm in which two emission centers are provided with the aid of nanostack epitaxial technology. Overall, the component delivers a typical optical output of 1200mW at a current of 1A from only one chip.
With a height of only 0.6mm, the SFH 4770S is claimed to have a lower profile than any IREDs previously available in its output class, meeting the need for broad homogeneous illumination in a limited space (particularly in mobile devices such as smartphones and tablets). "Compared to the Oslon, previously our most compact high-power IRED, we have managed with Synios to reduce the footprint by almost one-third and the height by around one quarter," says product marketing manager Chris Goeltner. 
The emission angle of 120° ensures that the target area is evenly illuminated. Even with this emission characteristic, due to its high overall output the SFH 4770S achieves a typical radiant intensity of 375mW/sr (milliWatts per steradian) at 1A. This makes it suitable for facial recognition and eye-tracking systems, since they need the user's face to be brightly and uniformly illuminated, adds the firm.
Osram Opto says that the Synios package is also suitable for injecting light into external optics or light guides. Another important property for all applications is the thermal stability of the SFH 4770S, adds the firm; thermal resistance (Rth) is a maximum of 9K/W.
The Synios SFH 4770S is already available on request for first customer projects. Volume start-up is planned for the end of January.
Seoul Viosys and SETi to jointly commercialise Violeds UV LED sterilization technology
Seoul Viosys' acquisition of controlling stake in SETi approved by US DoD
Tags: Sensor Electronic Technology UV LEDs
Visit: www.s-et.com
Visit: www.nitekusa.com