7 July 2015
ClassOne launches mid-sized, four-chamber electroplater
ClassOne Technology of Kalispell, MT, USA, which manufactures wet-chemical processing equipment (especially for cost-conscious users of small substrates in emerging markets), has added to its Solstice family of <200mm-wafer electroplaters with the fully automated, cassette-to-cassette Solstice S4, available with up to four chambers and delivering throughput of up to 75wph (wafers per hour).
ClassOne introduced the Solstice family in 2014 to provide high-performance yet cost-efficient electroplating solutions for users of <200mm wafers, in MEMS, LEDs, RF, power, sensors and other emerging markets. In footprint (68" x 82"), capacity and cost, the new S4 is positioned between the 70.25" x 40"-footprint manual-load, development-oriented Solstice LT (with one or two chambers) and the 68" x 114"-footprint fully automated, cassette-to-cassette Solstice S8 electroplater (with up to eight chambers).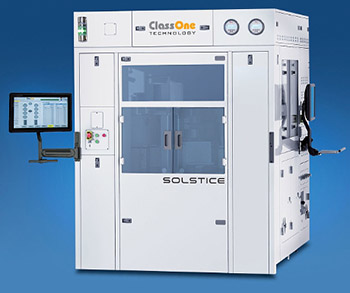 Picture: ClassOne's Solstice S4 electroplater.
"Certain users had been asking for a smaller version of our S8," says chief technology officer Kevin Witt. "Others wanted a smaller incremental step up from our LT development tool. The new S4 was a natural answer to both requests. It provides cassette-to-cassette automation but has a 28% smaller footprint than the S8. Also, S4 pricing starts at $700,000, compared with $1.5m for the S8," he adds.
"It's about giving customers more options," says president Byron Exarcos. "With the new Solstice S4 we're providing more ways for budget-constrained users to get exactly what they need to improve their processes," he adds. "For some, the S4 will provide an affordable way to replace wet benches, automate production and gain significant improvements in uniformity, consistency and productivity. For others, the S4 will be a natural replacement for aging Equinox systems."
All Solstice models share the same chambers, software controls, electronics and processing results — enabling users to move easily from process development on the LT, to mid-volume production on the S4, to high-volume production automation on the S8.
All Solstice systems are priced at less than half of what similarly configured plating systems from larger manufacturers would cost, it is claimed. The tools are designed for a broad spectrum of electroplating processes using many different metals and alloys on opaque or transparent substrates. ClassOne also supports plating customers with process development, deployment and service around the globe.
ClassOne launches electroplating tool for smaller-substrate users
ClassOne Equipment expands Wet Processing Division with new subsidiary
Tags: ClassOne
Visit: www.classone.com/products