22 June 2015
Finisar's quarterly revenue grows despite annual telecom price reductions
For its fiscal fourth-quarter 2015 (ended 3 May), fiber-optic communications component and subsystem maker Finisar Corp of Sunnyvale, CA, USA has reported revenue of $320m, up 4.5% on about $306m both a year ago and last quarter. The increase was due primarily to an extra (14th) week in the fourth quarter, offset partially by the impact of Chinese New Year. Telecom product sales hence rose by 8.6% on last quarter, despite the impact of three month of the annual telecom price reduction that typically takes effect on 1 January. Datacom product sales rose by 3.2% on last quarter.
| | | | | | |
| --- | --- | --- | --- | --- | --- |
| Fiscal | Q4/2014 | Q1/2015 | Q2/2015 | Q3/2015 | Q4/2015 |
| Revenue | $306m | $327.6m | $297m | $306.3m | $320m |
Full-year fiscal 2015 revenue was a record $1250.9m, up 8.1% on fiscal 2014's $1156.8m, due primarily to Datacom product sales rising by 13.6%, counteracting Telecom product sales falling by 5.2%.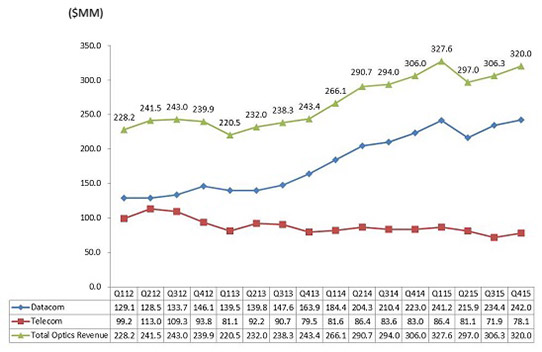 Picture: Finisar's quarterly revenue trends.
"Revenue is driven primarily by the growth in worldwide demand for bandwidth with the ever increasing distribution and use of video, images and digital information," notes CEO Eitan Gertel. "In addition, Finisar continues to benefit from the growth in Cloud services, which drives networking hardware upgrades of existing data centers and the build-out of new hyperscale data centers," he adds.  
On a non-GAAP basis, full-year gross margin has fallen from 35.9% to 30.9%. However, although down on 34.2% a year ago, quarterly gross margin has rebounded slightly from the low of 30% last quarter to 30.3% in fiscal Q4. This is due mainly to the improvement in yields for a new optical engine product for supercomputing applications that started to ramp last quarter (negatively impacting gross margin), partially offset by the impact of the annual telecom price reduction.
Operating expenses rose from $65.1m last quarter to $68.2m, due to the extra week of salaries, higher R&D project materials associated with the qualification of new products (pushed out from fiscal Q3), and higher sales & marketing expenses (due to the higher revenue level).
Full-year operating income has fallen from $162.3m (an operating margin of 14% of revenue) last year to $116.1m (9.3% of revenue). However, due to the higher gross margin in fiscal Q4, quarterly operating income rose from $26.9m (an operating margin of 8.8% of revenue) last quarter to $28.8m (9% of revenue).
Likewise, full-year net income fell from $157m ($1.53 per diluted share) to $110.4m ($1.04 per diluted share). However, quarterly net income has risen slightly from $26.7m ($0.25 per diluted share) last quarter to $26.9m ($0.25 per diluted share).

Capital expenditure was $30.1m (less than the forecasted $35m, as the timing of some of the expenditures associated with the building construction in Wuxi, China were pushed into fiscal Q1). During the quarter, cash, cash equivalents and short-term investments rose by $1.3m, from $488.9m to $490.2m.
For fiscal first-quarter 2016 (a 13-week quarter), Finisar expects revenue of $308-328m (versus $327.6m a year previously, when there was a big spike in sales for wireless, which is currently down). Gross margin should be 30.5% (benefitting from the greater weekly volumes, offset partially by the impact of increased competition). Operating expenses are expected to fall slightly to $67-68m. Operating margin should be 8.8-9.8%, and earnings per diluted share should be $0.23-0.29.
CapEx is expected to be $35m. Construction of the second building of the new factory in Wuxi, China is now complete, including fit-out of two of the four floors. "We've decided to fit out the remaining two floors starting in the first quarter," notes executive VP & chief financial officer Kurt Adzema. "This work will be completed by the end of fiscal 2016," he adds.  
"Our ultimate goal is to get OpEx to approximately 20% of revenue… by early part of next fiscal year hopefully," says Adzema. "That will be driven mainly by increases in revenue and some leverage on the operating expense line."
Finisar reports quarterly revenue up 3% to $306m, as 40-100Gb/s datacom growth outweighs slow telecom carrier spending
Finisar sees first quarterly revenue drop in two years
Finisar's September quarter to see first revenue decline in two years
Finisar reports 7th quarter of revenue growth to record $306m
Finisar opens production plant in Wuxi, China
Tags: Finisar
Visit: www.finisar.com