23 June 2015
VisIC claims lowest-resistance 650V GaN power conversion switches
VisIC Technologies Ltd of Rehovot, Israel, a fabless developer of power conversion devices based on gallium nitride (GaN) metail-insulator-semiconductor high-electron-mobility transistors (MISHEMTs) founded in 2010, has unveiled what it claims is the lowest-resistance 650V blocking voltage transistor, specifying a specific on-resistance (Rds(on)) as low as 12mΩ.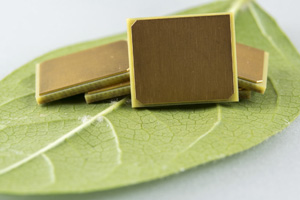 Picture: VisIC's low-resistance 650V, 50A GaN power transistor switches.
Reducing unnecessary losses in electrical energy conversion has been, and continues to be, a long-term goal for many companies producing energy conversion subsystems such as power supplies, photovoltaic inverters and electrical motor drives. These subsystems are used extensively in industrial, commercial and residential applications (robotics, elevators, washers, air conditioners, etc). Now a step-function reduction in conduction and switching losses for high-speed switching is possible due to VisIC's developments, says the firm.
Used in power conversion switches (the fundamental building block for most energy conversion subsystems), VisIC's 650V, 50A GaN transistors are targeted at the $12bn power transistor market.
Based on a new design for GaN high-electron-mobility transistors (HEMTs), VisIC reckons that its products can accelerate the push to extend GaN-based technology from communications subsystems into power conversion subsystems.
VisIC launches 650V normally-off GaN power switches
Tags: GaN-on-Si power transistor
Visit: www.visic-tech.com