10 March 2015
Veeco's gas mixing systems chosen by Taiwanese foundry for high-volume SiGe epi production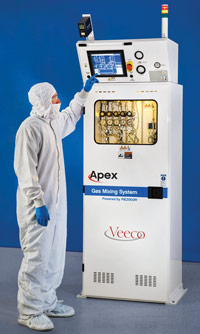 Epitaxial deposition and process equipment maker Veeco Instruments Inc of Plainview, NY, USA says that a leading Taiwanese semiconductor foundry has placed a repeat order for multiple Apex Gas Mixing Systems. The systems are expected to reduce germane (GeH4) purchase costs by up to 40% and increase yield for the foundry's most advanced processes by delivering repeatable mixtures of GeH4 in hydrogen for silicon germanium (SiGe) epitaxy.
"Our Apex Gas Mixing System enables our customer to achieve significant cost savings in high-volume production with a level of precision and control that is unmatched by any other gas mixing system on the market," reckons Christopher Morath, senior director, Veeco Flow Technologies Group. "The Apex system improves real-time process control by up to a factor of ten as compared to mixed gas cylinders," he adds. "This improvement will also enable the user to increase both yield and throughput."
Powered by Veeco's production-proven Piezocon Gas Concentration Sensor, the Apex Gas Mixing System is said to improve concentration control versus existing methods, providing tighter process management, increased tool uptime and reduced manufacturing costs. It is optimized for advanced silicon epitaxy applications and other processes requiring low concentration, high precision and cost-sensitive gas mixtures.
"Veeco Flow Technologies Group has been an outstanding partner and their service support has exceeded our customer's expectations," comments the president & CEO of Zillion Tek Taiwan, distributor of Apex and Piezocon products.
Veeco launches Apex Gas Mixing System to improve process control and cut costs at 20nm and below
Tags: Veeco SiGe CVD MOCVD ALD
Visit: www.veeco.com/Apex