13 May 2015
Cree launches first 900V SiC MOSFET platform
Cree Inc of Durham, NC, USA, which manufactures silicon carbide (SiC)-based power products, has launched what it claims is the first 900V MOSFET platform. Optimized for high-frequency power electronics applications, including renewable energy inverters, electric vehicle (EV) charging systems, and three-phase industrial power supplies, the new 900V platform enables smaller and higher-efficiency next-generation power conversion systems at cost parity with silicon-based solutions, reckons the firm.
"Compared to equivalent silicon MOSFETs, this breakthrough 900V platform enables a new market for our products by broadening the power range we can address in end systems," says Dr Cengiz Balkas, VP & general manager, Cree Power and RF. "Following our 1200V MOSFETs, which exhibit superior performance to high-voltage IGBTs, we are now able to outperform lower-voltage superjunction silicon MOSFET technology at 900V," he adds. "This platform delivers vastly superior characteristics, thereby providing power designers with the potential to innovate smaller, faster, cooler,and more efficient power solutions… it is beyond the reach of anything currently achievable with silicon."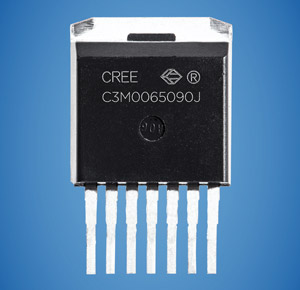 Picture: Cree's new C3M0065090J 900V SiC MOSFT.
Built on Cree's SiC planar technology, the new 900V MOSFET platform expands the product portfolio to address design challenges common to new and evolving application segments in which a higher DC link voltage is desirable. The lead product (C3M0065090J) features the lowest on-resistance rating (65mΩ) of any 900V MOSFET device on the market, it is claimed. Moreover, in addition to the industry-standard TO247-3 and TO220-3 packages, the new device is also offered in a low-impedance D2Pak-7L surface-mount package with a Kelvin connection to help minimize gate ringing.
Existing 900V silicon MOSFETs have severe limitations for high-frequency switching circuits due to extremely high switching losses and poor internal body diodes, says Cree. Further limiting the use of silicon MOSFETs is the on-resistance Rds(on) that increases by 3x over temperature, which causes thermal issues and significant derating. In contrast, Cree's new 900V MOSFET technology delivers low Rds(on) at higher temperatures, enabling a significant size reduction of the thermal management system, says the firm.
The C3M0065090J is rated at 900V/32A, with an R ds(on) of 65mΩ at 25°C. At higher-temperature operation (TJ = 150°C), the R ds(on) is just 90mΩ. Packaged parts will be stocked through distributors DigiKey and Mouser.
Cree introduces first 1200V/25mΩ MOSFET in TO-247 package
Cree begins volume production of second generation SiC MOSFET
Tags: Cree SiC power modules SiC MOSFET
Visit: www.cree.com/Power/Products/MOSFETs/7L-D2PAK/C3M0065090J