27 May 2015
GaN Systems claims smallest 650V, 15A GaN transistor
GaN Systems Inc in Ottawa, Ontario, Canada – a fabless developer of gallium nitride (GaN)-based power switching semiconductors for power conversion and control applications – is claiming that its GS66504B – one of a family of 650V devices spanning currents of 7A to 200A – is the world's smallest 650V, 15A GaN transistor, with a footprint of just 5.0mm x 6.5mm (50% smaller than competing devices).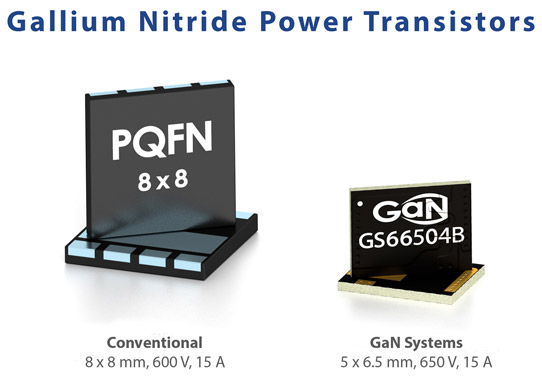 "We were somewhat surprised to see announcements at last week's PCIM power electronics exhibition and conference that trumpeted gallium nitride 600V, 15A devices in 8mm x 8mm dual-flat no-lead (DFN) packaging as the 'industry's smallest' enhancement-mode devices – our part is clearly much smaller," states CEO Jim Witham. "But I suppose this is just an indication of how quickly the GaN market is moving, and a positive indication that silicon has reached its limits," he adds.
"Our message to designers in applications as diverse as flat-screen TVs, games consoles, washing machines, inverters, electric vehicles, motors and wider is the same: if you are not on-board with GaN, you will be left behind by your competitors," continues Witham.
GaN Systems claims to be the first company to have developed and brought to the global market a comprehensive product range of devices with current ratings from 7A to 250A – its Island Technology die design, combined with its extremely low inductance and thermally efficient GaNPX packaging and Drive Assist technology means the company's GaN transistors offer a 40-fold improvement in switching and conduction performance over traditional silicon MOSFETs and IGBTs. Devices are available now through its worldwide distribution network.
Panasonic launching smallest E-mode 600V GaN power transistor
Tags: GaN Systems Power electronics GaN SiC
Visit: www.gansystems.com
Visit: www.mesago.de/en/PCIM/main.htm