11 May 2015
JDSU's quarterly revenue of $410.7m hit by drop in 3D sensing
For fiscal third-quarter 2015 (to 28 March), JDSU has reported revenue of $410.7m, down 6% on $437.1m last quarter and 1.7% on $418m a year ago (and below the guidance midpoint of $418m).
The Americas, Asia-Pacific and EMEA represented 49.4%, 29% and 21.6% of total revenue, respectively, compared with 43.3%, 34.3% and 22.4% last quarter.
By application sector, revenue for Network Enablement (NE) was $128.1m (31.2% of total revenue), down 4.2% on $133.7m last quarter and 5.8% on $136m a year ago. Revenue for Service Enablement (SE) was $39m (9.5% of total revenue), up 7.4% on $36.3m a year ago but down 14.7% on $45.7m last quarter (and below the $45m guidance). Revenue for Optical Security and Performance Products (OSP) was $48.4m (11.8% of total revenue), down 4.3% on $50.6m last quarter and 5.3% on $51.1m a year ago (and below the $50m guidance).
Revenue for Communications and Commercial Optical Products (CCOP) was $195.2m (47.5% of total revenue), down 5.7% on $207.1m last quarter but up 0.3% on $194.6m a year ago.
Of this, CCOP's Commercial Laser revenue was $31.5m (7.7% of total revenue), up 1.9% on $30.9m a year ago but down 21.3% on $40m last quarter, due to seasonal weakness from solid-state laser products plus fiber-laser revenue falling to just under $10m as a result of customer inventory management (following three consecutive record revenue quarters).
CCOP's Optical Communications revenue was $163.7m (39.8% of total revenue), down 2% on $167.1m last quarter but level on a year ago, offsetting a $7m drop in 3D sensing revenue (to below $2m). Excluding 3D sensing, revenue would have risen by 4.7% year-on-year, driven by 23.2% growth in Datacoms (led by higher-speed 40G and 100G transmission products, including 40G QSFP+, 100G CFP2 and 100G CFP4). Telecom revenue was down 1.4% year-on-year, impacted mainly by declines in average selling prices (ASPs) outweighing the increases in unit volumes. However, within Telecom, JDSU is seeing strength in ROADM (reconfigurable optical add-drop multiplexer), modulator, pump laser and submarine product lines (all up more than 10% year-on-year). ROADMs have seen particular strength from the newer TrueFlex products, which are moving from lab trials to new network deployments. "Our TrueFlex products are key to recently announced North American metro deployments, which could support continued growth for us in the coming year," comments Alan Lowe executive VP & president CCOP.
Optical Communications revenue mix was 71% Telecom, 23% Datacom and 6% Consumer & other (compared with 72%, 19% and 9% a year ago, respectively). In particular, revenue for higher-speed transmission (40G and 100G) has risen to 48% of overall transmission revenue from 44% a year ago (with 100G revenue doubling year-on-year).
The quarter-on-quarter decline in the ASP for Optical Communications components was 4.7%, consistent historically with 4.9% a year ago (and in line with the expected 10-14% year-on-year for full-year fiscal 2015, as the March quarter typically experiences the largest decline of the year).
On a non-GAAP basis, gross margin was 48.3%, down from 49.1% last quarter but up from 47.6% a year ago. In particular, CCOP gross margin has fallen back from 33.4% last quarter to 30.3%, down on 32.4% a year ago due to an unfavorable product mix from both Commercial Lasers (down from 48.9% a year ago to 43.2%) and Optical Communications (down from 29.3% to 27.9%, due to the lower 3D sensing revenue).
Operating margin was 7.6%, down from 9.9% last quarter but up from 6.5% a year ago (and exceeding the 5.5-7.5% guidance). CCOP operating margin was 8.9% (below the midpoint of the 8.5-10.5% guidance range), down from 11.5% a year ago, driven largely by higher-than-expected payroll-related accruals.
Net income was $27.6m ($0.12 per share), down from $35.4m ($0.15 per share) last quarter but up from $23.4m ($0.10 per share) a year ago (and exceeding the $0.07-0.11 guidance), driven by overall favorable product mix and operational improvements.
"JDSU delivered better-than-expected operating margin and EPS despite muted carrier spending that impacted our Network and Service Enablement businesses," comments president & CEO Tom Waechter.
During the quarter, total cash and investments fell from $867.6m to $815.5m. This was after capital expenditure of $18.3m (cut from $23.9m last quarter) and operating cash outflow of -$22.9m (compared with operating cash generation of +$16.6m last quarter), due primarily to activities related to JDSU preparing to split into two businesses. Last September, JDSU announced plans to separate into two independent, publicly traded companies (the optical components and commercial lasers company Lumentum Holdings Inc consisting of JDSU's CCOP segment, and the network and service enablement company Viavi Solutions Inc consisting of JDSU's NE, SE and OSP segments).
Meanwhile, during fiscal Q3, both Optical Communications and Commercial Lasers had book-to-bill ratios below 1 due to (1) a combination of orders that pushed into Q4 and (2) having a higher-than-usual proportion of revenue from customers who previously placed longer-term orders with delivery dates spanning multiple quarters.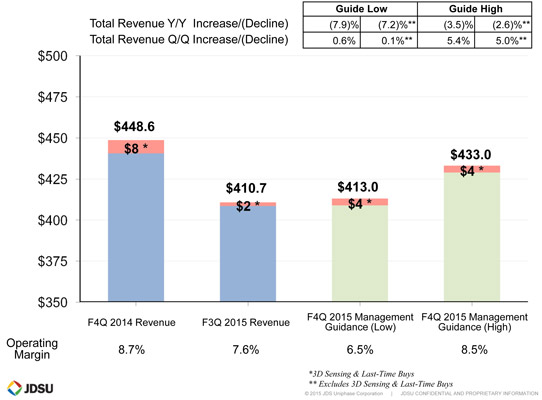 Picture: JDSU's fiscal Q4/2015 guidance.
For fiscal fourth-quarter 2015 (ending 27 June), JDSU expects total revenue to rise to $413-433m. Operating margin should be 6.5-8.5% and earnings per share $0.09-0.13.
For CCOP, revenue is expected to rise to $197-207m. In particular, Optical Communications revenue should be up sequentially, driven by continued growth in Datacoms as well as growth in key Telecom products. Commercial Lasers revenue should be up modestly. The lower proportion of higher-gross-margin Commercial Lasers in the revenue mix will limit CCOP gross margin. Due to this, along with continued growth in critical R&D spending, CCOP operating margin is expected to be 8.5-10.5%.
JDSU's quarterly operating model targets for CCOP are now $210m in revenue, 33-35% gross margin and 12-14% operating margin. 
"Lumentum and Viavi Solutions are building momentum and we remain on plan to complete the spin off in the third calendar quarter this year," Waechter says. "We remain on track to achieve net $50m in cost reductions and are also on track to take substantially all associated charges in fiscal-year 2015 [the estimated cash requirements for the separation is $75-100m]," notes executive VP & chief financial officer Rex Jackson. "We expect $8-9m of savings at Lumentum, with the balance coming from Viavi through reductions in corporate G&A [general & administrative] expenses and COGS [cost of goods sold] operating expenses in NE and SE." 
JDSU to spin off CCOP business as Lumentum by Q3/2015; NE, SE and OSP businesses to become Viavi
JDSU reports quarterly 40G/100G transmission optical component revenue growth of 30% year-on-year
JDSU's quarterly revenue falls 3% to $433.6m
JDSU's quarterly revenue grows 7.3% to $448.6m
Tags: JDSU Optical communications
Visit: www.jdsu.com