12 November 2015
VisIC makes available evaluation board and samples for 650V GaN power switch
After in June launching what it claimed was the lowest-resistance 650V-blocking-voltage transistor (specifying an Rdson as low as 15mOhm), VisIC Technologies Ltd of Rehovot, Israel, a fabless developer of devices based on gallium nitride (GaN) metail-insulator-semiconductor high-electron-mobility transistors (MISHEMTs) founded in 2010, has now delivered evaluation boards (EB) and samples of its ALL-Switch (Advanced Low-Loss Switch) to leading customers, allowing users to perform extensive testing confirming the switching parameters.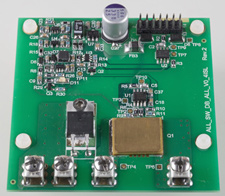 Picture: ALL-Switch evaluation board.
The evaluation board includes gate driver and switching control logic based on commercially available components. ALL-Switch is configured for hard switching on the evaluation board and can switch a 400V load with greater than 30A currents at over 500kHz.
VisIC says that its technology solves problems that have limited devices from simultaneously achieving step-function reductions in conduction and switching losses for power conversion systems that can benefit from high switching speeds.
VisIC will soon also announce details of a half-bridge reference design.
VisIC launches 650V normally-off GaN power switches
Tags: GaN-on-Si power transistor
Visit: www.visic-tech.com