21 October 2015
GigOptix's revenue rises for sixth consecutive quarter to record $10.4m
For third-quarter 2015, GigOptix Inc of San Jose, CA, USA (a fabless supplier of analog semiconductor and optical communications components for fiber-optic and wireless networks) has reported a sixth consecutive quarterly revenue increase, to a record $10.4m, up 6% on $9.8m last quarter and 23% on $8.5m a year ago (and above the expected $10.3m). Product revenue in particular was up 7% on last quarter and 29% on a year ago.
The High-Speed Communications business (Datacom and Telecom optical communications products plus wireless RF point-to-point products) has grown further to $7.6m (73% of total revenue), up 15% on $6.6m (67% of total revenue) last quarter and up 41% on $5.4m (64% of total revenue) a year ago. This continued growth was led mainly by another strong quarter in 40 and 100Gb/s drivers and amplifiers for datacom transceivers and active optical cables (AOCs) that populate the newly installed cloud mega data-centers.
Revenue from the Industrial ASIC (application-specific integrated circuit) product line has fallen from $3.3m (33% of total revenue) last quarter to $2.8m (27% of total revenue) as the firm continues to shift focus from its legacy customized ASIC products to high-speed optical and new-generation RF ASICs while acquiring new customers in various new market segments.
On a non-GAAP basis, gross margin was again a record 66%, level with last quarter and up on 61% on a year ago.
Operating expenses were $4.5m, up slightly from $4.4m last quarter and flat on a year ago. "We continue to manage our expenses tightly while continuing to invest in innovations," comments chief financial officer Darren Ma.
A sixth consecutive quarter of net income yielded a record $2.3m ($0.06 per diluted share), up from $2.1m ($0.06 per diluted share) last quarter and $0.7m ($0.02 per diluted share) a year ago. A 17th consecutive quarter of positive adjusted EBITDA likewise yielded a record $3m, up from $2.8m last quarter and $1.4m a year ago.
Capital expenditure (CapEx) was about $0.2m. Free cash flow was $0.5m. However, during the quarter, cash and cash equivalents almost doubled from $18.4m to $35m, due to about $16.5m in net proceeds from August's public offering of common stock. However, this does not include $5.2m paid for the acquisition of South Korea-based Terasquare Co Ltd - establishing the subsidiary GigOptix-Terasquare-Korea (GTK) Co Ltd (to become GigOptix's center for ASIC product design and development) - which will be accounted for in fourth-quarter 2015. "The sole purpose of enhancing the balance sheet was to support further strategic moves and acquisitions to enhance the continuous fast growth of the company," notes chairman & CEO Dr Avi Katz.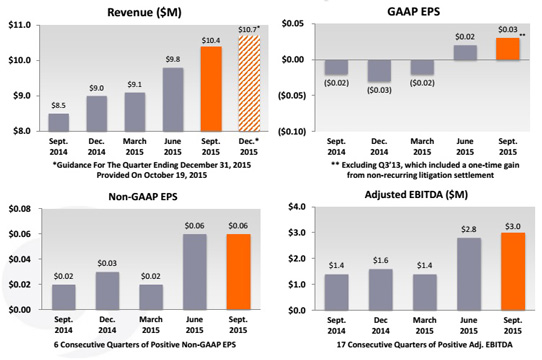 "We produced another quarter of record financial results, further demonstrating that our business strategy to expand into high-growth markets, both organically and through strategic acquisitions, accompanied by tight cost controls, is generating exceptional performance," says Katz. "Our all-time record results and enhanced profitability this quarter were driven by significant growth in our High-Speed Communications business. We continue to be the dominant supplier of RF devices for current 40Gbps and future 100Gbps active optical cables and transceivers for the fast-growing data-center market. We have also enhanced our customer base for datacom and telecom-metro 100Gbps links," he adds. "With the addition of Terasquare, we are now strongly positioned to further increase our cloud-based links market-share by having a complete and superior IC portfolio of industry-leading 100Gbps datacom solutions for Ethernet, Fiber Channel, and InfiniBand data-center connectivity… the transaction will result in a meaningful increase of the High Speed Communications revenue in fiscal 2016 and beyond," Katz believes.
"Earlier this month [October] we announced another milestone in the development of our Industrial ASIC product line with a substantial $6.1m contract with one of the world's largest suppliers of advanced aerospace for commercial and defense products," notes Katz. Revenue from this agreement will begin in fourth-quarter 2015 and be spread over the next two years. "When combined with the $7.9m order we announced in May of this year from another major supplier in the same industry, we have the foundation in place to deliver continued strong financial performance in 2016," he adds.
For fourth-quarter 2015, GigOptix expects record revenue of $10.7m (up 18% year-on-year), with gross margin remaining in the mid-60s. Operating expenses should rise by about $0.4m, driven primarily by the Terasquare acquisition and its consolidation into GigOptix.
Adding to record year-to-date revenue of $29.3m (up 23% year-on-year on $23.9m in 2014), full-year revenue should hence be a record $40m in 2015, up 21% on 2014 (and up from the previous guidance of $39m given in July and $37.5m given in February). After generating record net income of $5.1m ($0.14 per diluted share) in the first three quarters of 2015 versus $0.34m ($0.01 per diluted share) a year ago, the firm also expects greater annual profitability. "Based on the fourth quarter fiscal 2015 revenue guidance, fiscal 2015 will result in the highest-revenue and most profitable year in the company's history," notes Katz.
"In Q4 we expect our level of CapEx investments to increase due to further investment to support our fast-growing segments driving revenue growth in 2016," notes Ma. "We currently expect 40Gb/s product to continue to be the dominating device in the data-center connectivity through 2016," says Katz. "The next generation of 100Gb/s product will continue to be qualified through the rest of this year and 2016, and we expect production volume sales of this product family to start in the second half of 2016 and to overtake the 40Gb/s device volume shipment sometime in late 2017," he adds. "The deployment of this current generation of NRZ modulated devices, both in 40Gb/s and in 100Gb/s, will last at least three more years before any other modulation schemes such as PAM-4 will replace it."
GigOptix completes acquisition of Terasquare
GigOptix achieves first quarter of GAAP profitability
GigOptix raises revenue guidance by 5% to $9.8m for Q2
GigOptix reports record income in Q1
GigOptix reports record profit in Q4, and first ever annual non-GAAP profit
GigOptix's revenue rises 6% in Q3, driven by telecoms growth of 49%
Tags: GigOptix
Visit: www.gigoptix.com