1 October 2015
Osram's new four-chip Ostar Stage Multichip LEDs doubles brightness from same surface area for stage spotlights
Osram Opto Semiconductors GmbH of Regensburg, Germany says that the new LE RTDUW S2WN version of its new Osram Ostar Stage LED features four high-power chips with the latest thin-film and UX:3 technologies in red, green, blue and white. Providing twice the brightness with no increase in package size, the LED is suitable for use in stage spotlights, as well as mood and architectural lighting (in the latter case, they are the preferred light source for effect and accent lighting).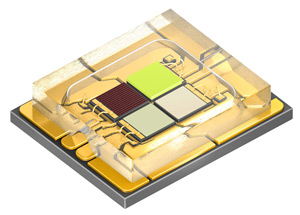 Picture: The new Osram Ostar Stage LED.
Due to the improved chip technologies, the new high-power LED's four chips (covering 1mm² each) can be operated for the first time at up to at up to 2.5A(DC). This yields twice the output of 30W (electric) from the same chip and package area compared with the existing version, adding another output class to the Osram Ostar Stage product family.
The Osram Ostar Stage family now covers outputs between 15W and 60W (with the 60W coming from the previously released LE RTDUW S2WP version). "The higher current that is necessary for a higher output requires the thermal management of the Osram Ostar Stage to be adapted so that the heat generated in the chip can be removed as effectively as possible," says product marketing manager Andrew Lin. Thermal resistance (Rth) is 0.9K/W. "At the same time, many features such as the package size [4.68mm x 5.75mm x 1.26mm] and beam characteristics match those from previous versions," continues Lin. "That way, customers can stick to their existing optics and the overall design of their lighting solutions."
The new Osram Ostar Stage LED is said to give users more flexibility for their stage spotlight product portfolio. Spotlights with the same number of LEDs will be more powerful, while spotlights with fewer light emitting LEDs will have the same brightness.
The new high-power LEDs will be available in high volume from first-quarter 2016.
Osram's new Ostar Stage LED boosts brightness by up to 2.6x from component surface just 30% larger
Osram adds multichip tunable white LEDs to Ostar Stage spotlight range
Osram launches Ostar Stage LEDs with flat glass window and AR coating for smaller spotlights
Visit: www.osram-os.com