24 September 2015
Osram Opto unveils Oslon Black Flat S LED prototype, providing up to 2000lm for automotive applications
At the International Symposium on Automotive Lighting (ISAL 2015) in Darmstadt, Germany (29–30 September), Osram Opto Semiconductors GmbH of Regensburg, Germany is unveiling the Oslon Black Flat S, a surface-mount technology (SMT) LED prototype with a brightness of up to 2000lm.
This high brightness output was achieved by combining five high-current chips (from the firm's latest UX:3 generation of chips) with an improved SMT package. The prototype LED is operated at a current of 2A and a voltage of 15.5V. The optical output is 6.5W.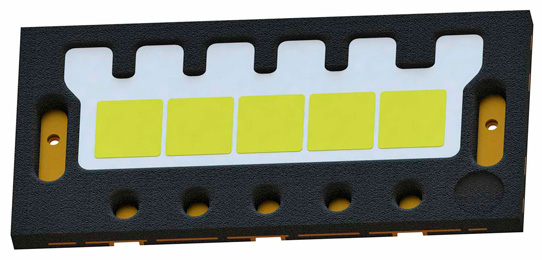 Picture: The five-chip Oslon Black Flat S.
In terms of increasing output, the new SMT prototype Oslon Black Flat S is a logical development of existing versions of the firm's automotive product family and shows that high luminous flux values of up to 2000lm are possible from a single LED, sufficient to act as the light source for combined low-beam and high-beam systems. At the same time, the SMT component has a footprint of 3.75mm x 7.9mm, which is only slightly larger than the previous 5-chip version.
At a current of 1A, a power loss of 12W and an ambient temperature of 25°C, the temperature at the chip is only 69°C, so the temperature difference compared with the previous version is reduced from 58°C to 44°C.
The basis for the high brightness is improved heat distribution – essential in view of the high currents involved. The thermal connection with the package is greatly improved by larger contact pads, allowing passive cooling. This, in turn, reduces system costs considerably. The Oslon Black Flat S LED is consequently a viable alternative for vehicles that are currently equipped with to high intensity discharge (HID) headlamps.

Picture: Improved thermal management of the Oslon Black Flat S prototype (left) compared with the previous version (right).
"The five chips in the Oslon Black Flat S can also be driven individually," notes Joe Jablonski, automotive applications engineer at Osram Opto Semiconductors. "The future LED version will be an ideal solution for adaptive front lighting systems."
The Oslon Black Flat S LED is scheduled to be added to Osram's automotive portfolio at the end of 2016.
Osram's Oslon Black Flat automotive multi-chip LEDs win PACE Award
Osram's Oslon Black Flat LED now available with two chips
Osram launches Oslon Black Flat LED for automotive front-lighting systems
Tags: Osram Oslon LED headlights
Visit: www.osram-os.com