29 June 2016
Lumileds expands LUXEON C Color Line to Mint, Deep Red and Far Red, and boosts Red and Blue performance by 12%
LED maker Lumileds of San Jose, CA, USA has expanded its line of LUXEON C Color LEDs to a total of 12 colors (and 8 whites), making it the industry's broadest line of color LEDs available, it is claimed.
In the LUXEON C Color Line, the focal length of each LED is identical, enabling maximum optical efficiency in design. "Lumileds has filled out the spectrum on an LED color line that really sets the standard in color mixing," claims Jennifer Holland, product manager for the LUXEON C Color Line. "We're delivering seamless color mixing and the right colors for every application, including studio and stage lighting, architectural lighting, emergency vehicle lighting as well as color tunable lamps/fixtures," she adds.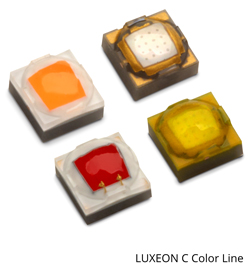 The LUXEON C Color Line now includes Mint, Deep Red and Far Red colors, joining the existing range of Red, Red-Orange, Amber, PC Amber, Green, Cyan, Blue and Royal Blue. In addition, the typical flux of  LUXEON C Red and LUXEON C Blue have been boosted by 12%, delivering better output from two of the most commonly used colors.
The white portion of the LUXEON C Color Line has been expanded to include color temperature and color rendering index (CRI) combinations of 4000K, 5000K, 5700K and 6500K at 70 CRI; 2700K, 3000K and 4000K at 80 CRI; and 5700K at 90 CRI.
The LUXEON C Color is said to be the only line of color LEDs to be hot tested at 85°C to ensure performance at application conditions. With what is claimed to be the industry's lowest thermal resistance (2.8°C/W), users can save on heat-sink cost or drive the LEDs harder to attain higher output.
In addition to expanding the LUXEON C Color Line, Lumileds has also added a Far Red offering to its LUXEON Rebel Color Line (a portfolio defined by its light output, high efficacy and clear saturated colors). Additionally, the LUXEON Rebel Green, Cyan and Blue colors now feature 12% higher flux than the previous-generation emitters.
Lumileds achieves smooth color mixing with LUXEON C Color Line of LEDs
Lumileds launches LUXEON 3535L Color Line of mid-power LEDs
Tags: Lumileds
Visit: www.lumileds.com/LUXEONCColors