7 August 2017
Oclaro's quarterly revenue up 28% year-on-year, despite 10G softness in China
For fiscal fourth-quarter 2017 (ended 1 July), Oclaro Inc of San Jose, CA, USA (which provides components, modules and subsystems for optical communications) has reported revenue of $149.4m (split about 50:50 between client-side/datacoms and line-side/telecoms).
This is up 28% on $125.2m a year ago, with a greater-than-expected 32% drop for 40G-and-below products from $45.5m to $28.8m (falling from 36% to 19% of total revenue) being offset by 100G-and-above products growing 63% from $79.7m to $120.6m (rising from 64% to 81% of total revenue). The latter includes including QSFP28 sales doubling (together, the QSFP28 and CFP2-ACO transceiver product families comprised over 40% of total revenue, compared with just 15% a year ago). However, revenue is down 8% on $162.2m last quarter, due to 40G-and-below products falling by 21% following expected softness in 10G product sales into China (falling by $11m, mainly in the client-side CFP family) plus the planned end-of-life for the 40G line-card product line.
Full-year revenue was $601m in fiscal 2017, up 47% on $407.9m in fiscal 2016, driven by 100G-and-beyond product revenue doubling (growing by $230m). "The most significant growth came from the CFP2-ACO and QSFP28 product family," says CEO Greg Dougherty. The top customers were Cisco (18% of total revenue), ZTE (18%), Huawei (15%) and Nokia (12%).
Of total revenue, China comprised 32% (down further, from 36% last quarter, as sales fell by %), Southeast Asia 18% (down further, from 22%) and Europe, Middle East & Africa (EMEA) 10% (falling back from 12%), while the Americas surpassed China to become the largest region at 39% (up from 28%), driven by strong growth in both data-center and metro sales. The customer base diversified further, with the top four customers falling to 55% of revenue (versus 68% two quarters ago). For full-year fiscal 2017, Cisco was the largest customer (replacing Huawei).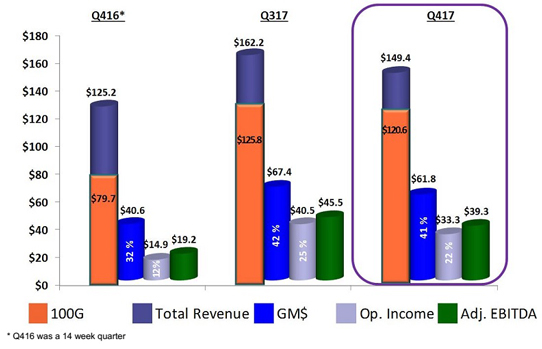 Despite quarterly revenue declining, non-GAAP gross margin fell only slightly, from 41.6% last quarter to 41.4%. This is up on 32.4% a year ago, driven by a richer 100G product mix and great scale as Oclaro further leveraged its manufacturing overhead. Full-year gross margin has grown from 29% in fiscal 2016 to 39.5% in fiscal 2017.
Operating expenses have risen further, from $25.7m a year ago and $27m last quarter to $28.6m (19% of sales), due mainly to R&D expenses.
Operating income was $33.3m (22% of revenue), down from $40.5m (25% of revenue) last quarter but more than doubling from $14.9m (12% of revenue) a year ago. Full-year operating income has risen from just $25.1m in fiscal 2016 to $130.9m (20% of revenue) in fiscal 2017.
Net income was $33.9m ($0.20 per diluted share), down from $39.9m ($0.23 per diluted share) last quarter but more than doubling from $14.4m ($0.11 per diluted share) a year ago. Full-year net income was $130.1m ($0.79 per diluted share) for fiscal 2017, up from just $19.2m ($0.17 per diluted share) in fiscal 2016.
Adjusted EBITDA was $39.3m, down on $45.5m last quarter but more than doubling from $19.2m a year ago (boosting full-year adjusted EBITDA from $40.9m in fiscal 2016 to $151.6m in fiscal 2017).
Hence, after subtracting capital expenditure (CapEx) of $18.4m (cut from $21.7m last quarter) and working capital (mostly related to inventory) of $15m, overall cash, cash equivalents, restricted cash and short-term investments rose during the fourth quarter by just $2.7m, from $254.8m to $257.5m.
For fiscal first-quarter 2018 (to end-September 2017), Oclaro expects revenue to grow to $151-159m, despite China revenue expected to be down by about 15% sequentially (then flat to down in fiscal Q2 - "We expect revenue from our 40G-and-below product to be relatively flat in the range of high 20s to $30m per quarter throughout fiscal year 2018," says Dougherty). Gross margin should fall slightly to 38-41%, due to the proportion of new products in the mix, plus bringing on extra depreciation of about $1m per quarter. Operating income is expected to be $30-34m (falling to 20-21% of sales).
"As we enter fiscal year 2018, we expect to see continued high demand for our 100G-and-beyond products [specifically QSFP28 and ACO] in the data-center and metro markets," says Dougherty. "We will be able to maintain our gross margins in the high 30s below 40 percentage range. This margin translates into operating income in the high-teens to 20% range," he adds. "We also expect to continue to generate cash throughout the year."
Going forward, operating expenses are expect to be steady at 19-20% of sales. CapEx for full-year fiscal 2018 should be $65-75m (similar to fiscal 2017). "For the year we expect spending to be front-end loaded and to add about $1m per quarter in depreciation," says chief financial officer Pete Mangan.
Despite two strong headwinds (the market in China – which is expect to be flat to down in the December quarter – and the ramp-down of the client-side CFP platform as the market transitions to the QSFP28 form factor), for calendar full-year 2017 Oclaro still expects revenue growth of about 20% on 2016. This implies that second-half calendar 2017 will be relatively flat on the first half (with growth for QSFP28 and CFP2-ACO again compensating for China being flat to down).
"While we continue to expect the healthy market in the Americas and a slower China market for us over the next couple of quarters, we still believe the fundamental demand drivers in China remain intact," comments Dougherty. "We anticipate growth from the region to return again later this fiscal year, driven by new metro and prudential network deployment."
Growth in China should be further aided by an increase in demand for 25G and 100G optical transceivers used in 5G front-haul deployment. "We are well position to serve what could be a very significant new market for Oclaro due to these transceivers requiring industrial operating temperature ranging. Our laser chip and packaging technologies enable us to address this requirement and differentiate ourselves in this market," says Dougherty. "While we will likely see most of the growth over the next few quarters from the ACO and QSFP28 product family as both the metro and data-center market upgrades to 100G and beyond, we expect both of these markets to stay strong throughout fiscal year 2018, particularly in North America and gradually building in China," he adds.
Oclaro has appointed Ian Small to serve on its board of directors (effective 1 September). Most recently chief data officer of Telefónica S.A., Small has competencies in communications services, digital services, technology innovation and strategy. On 27 July, Oclaro increased the size of the board from seven to eight, and Small will serve as a Class II director.
Oclaro appoints global communications services executive to board
Oclaro quarterly revenue up 60% year-on-year, yielding record gross margin and operating income
Oclaro's quarterly revenue rise of 14% drives further records in gross margin and operating income
Oclaro expecting quarterly revenue at high end of $146-154m guidance
Oclaro revenue grows for fifth consecutive quarter, up 55% year-on-year, driven by 100G
Oclaro's revenue grows for fourth consecutive quarter, up 52% year-on-year
Tags: Oclaro
Visit: www.oclaro.com