3 March 2017
Aixtron's returns profit in Q4, helping full-year 2016 revenue recover to 2015 level
Deposition equipment maker Aixtron SE of Herzogenrath, near Aachen, Germany has reported full-year revenue of €196.5m for 2016, towards the high end of the €170-200m guidance range given at the beginning of the year and almost matching 2015's €197.8m (down just 1%), following a strong second-half 2017. In particular, equipment revenue grew by 3% from €151m to €155.7m (rising from 76% to 79% of total revenue), while sales of spare parts & services shrank by 13% from €46.8m to €40.8m (falling from 24% to 21% of total revenue).
Asian revenue rebounded slightly from 60% of total revenue in 2015 to 65% in 2016 (growing from €118.4% to €128m), while the Americas fell from 22% to 19% (shrinking from €43.6m to €37.7m) and Europe fell from 18% to 16% (shrinking from €35.8m to €30.8m.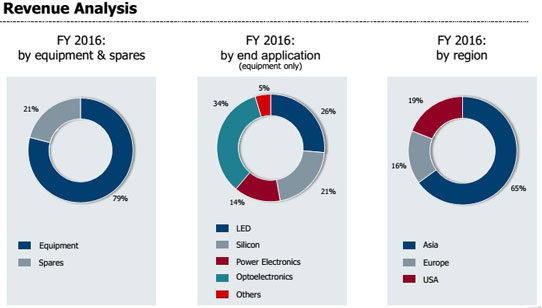 Fourth-quarter revenue was €89.8m (the highest quarterly revenue since 2011), up 44% on €62.5m a year ago and up 75% on €51.2m last quarter due to a high volume of planned system shipments. The largest contributions came from production systems for LED, telecom and optoelectronics, as well as for the silicon industry.
"It was important that we continued to press ahead with diversifying our technology and product portfolio last year," says CEO Martin Goetzeler. While the share of full-year 2016 revenue attributable to LED applications – including red-orange-yellow (ROY) LEDs and UV LEDs – remained stable at 26% (rising slightly from €39.7m to €41.1m, including sales of AIX R6 systems from inventory), optoelectronics (excluding LEDs) and power electronics now account for 48% of Aixtron's system revenues, including optoelectronics rising from 31% of revenue in 2015 to 34% in 2016 (rising by 14% from €46.7m to €53.2m, whereas power electronics-related revenue fell from €25.8m to €21.8m, reflecting customer capital expenditure plans prior to expected future growth). Silicon applications rose from 19% of revenue in 2015 to 21% in 2016 (including revenue for logic and memory tools rising by 11% from €29.3m to €32.4m). "That is also one of the reasons why, based on our own calculations, we were once again the global market leader for MOCVD systems in 2016," Goetzeler reckons.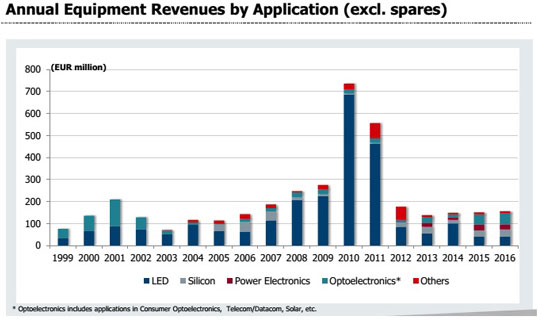 Gross margin was 33% in Q4, level with 33% last quarter but up on 31% a year ago, enabling full-year gross margin to rise from 25% in 2015 to 29% for 2016.
Due to consistent cost control, full-year operating expenses were almost unchanged from €76.5m (39% of revenue) in 2015 to €77.7m (almost 40% of revenue) in 2016 (within the annual limit of about €80m), including €53.9m of R&D spending (27% of revenue). This was despite quarterly operating expenses rising slightly from €20.4m in Q3 to €21.4m in Q4.
Earnings before interest, tax, depreciation and amortization (EBITDA) improved from -€16.4m in 2015 to -€7.9m in 2016. This was driven by the strong Q4 of +€12.5m, compared with -€0.4m last quarter.
For Q4, Aixtron returned a net profit of €6.4m, compared with a net loss of -€3.8m in Q3. This contributed to the full-year net result improving from a loss of -€29.2m in 2015 to -€24m in 2016.
"Operationally, we made major progress in numerous areas in fiscal year 2016 and met the financial targets communicated at the beginning of the year," notes Goetzeler. "The strong performance in the second half, and especially in the fourth quarter of 2016, enabled us to further improve the company's full-year results, even if we did not yet return to profitability due to ongoing high R&D costs," he adds. This helped
Full-year capital expenditure was cut from €13.3m in 2015 to just €5.3m in 2016. This helped free cash flow to improve by €14.4m from -€57.3m in 2015 to -€42.9m in 2016. Quarterly free cash flow has improved from -€35m a year ago, but dropped back from +€3m in Q3/2016 to -€4.9m in Q4, due mainly to high shipment volumes at the end of the year. A large part of the resultant increase in outstanding receivables has converted into cash in Q1/2017.
During 2016, cash and cash equivalents fell from €209.4m to €160.1m, due mainly to the negative net result, payment of the second installment of the agreed refund of €17.2m in advance payments to Chinese customer San'an Optoelectronics Co Ltd, and an agreed milestone payment of €4.1m for the purchase of PlasmaSi (acquired in 2015) in Q1/2016. Due to high shipment volumes at the end of 2016, receivables rose at the end of 2016. A large part of these receivables was paid in early 2017.
Order intake has grown by 35% from €167.1m in 2015 to €225.1m in 2016 (the highest since 2011, and exceeding both the initial guidance of €180-200m and the revised guidance €200-220m). Q4 order intake of €60.5m was down 12% from Q3's €69m but almost double the €31.3m a year ago, due to consistently high demand for LED, telecom and optoelectronic applications, including the sale of AIX R6 inventories.
Equipment order backlog totaled €78.1m at the end of Q4/2016, down from €104m at the end of Q3 but up 82% on €42.9m at the end of 2015.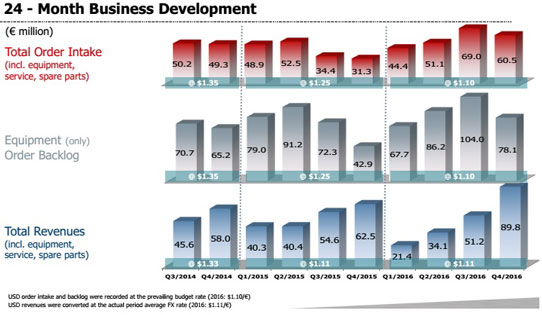 The key driver for the development in revenues and the order intake in Q4/2016 was demand for production systems for LED, telecom and optoelectronics, as well as for the silicon industry. This in turn was mainly attributable to technology trends, such as big data, cloud computing, electro-mobility, and the upcoming 5G mobile communication standard, says Aixtron.
"The strong reported equipment order backlog gives us reason to be confident in our outlook for 2017, in particular with regard to opto- and power electronics as well as to the silicon business," says Goetzeler. "We took a decisive step forward by supplying a Beta system with Gen1 (200mm x 200mm) configurations to a major display manufacturer to demonstrate our production processes on site. This way, we have moved significantly closer to obtaining the first order initially targeted for 2016," he adds.
"The dominant topic in fiscal year 2016 was certainly the planned takeover by Grand Chip Investment, which was intended to secure the company's access to the major Chinese market while also ensuring that all of Aixtron's product portfolio could be brought to market maturity," says Goetzeler. "Following the US President's order prohibiting the bidder's acquisition of Aixtron's US business and the investor's subsequent withdrawal, Aixtron acted to realign its corporate strategy," he adds.
"Aixtron is currently pursuing different options in order to successfully reduce required upfront expenses for the development of future technologies," says the firm. "These options include looking for partners, joint ventures or other alternatives. All these measures are targeted to enable a sustainable return to profitability and to report a positive EBIT for full year 2018.
Based on the existing business structure and the assessment of its current order situation (with the equipment order backlog of €78.1m on 1 January joined by an estimated €62-92m of order intake shippable during 2017, plus an estimated €40m of spares & services revenue) with an internal budget rate of US$/€1.10, Aixtron expects for fiscal year 2017 to achieve both revenue and order intake of €180-210m.
Due to planned additional upfront expenses for development of future technologies and based on the existing structure, Aixtron expects to achieve lower EBITDA, EBIT and net result for 2017. However, influenced by the significant reimbursement of an advance payment in Q1/2016 that will not repeat, Aixtron expects a further improvement in free cash flow in 2017.
As in previous years, Aixtron expects that it does not require any external bank debt financing in 2017.
Aixtron's supervisory board chairman to become interim CEO
Aixtron to delist American depositary shares from NASDAQ and deregister with SEC
China's Grand Chip abandons acquisition of Aixtron
Aixtron returns to positive free cash flow in Q3, boosted by sales of AIX R6 system inventory
Germany withdraws clearance of Grand Chip Investment's takeover of Aixtron
Aixtron's increased orders in Q2 herald recovery in second-half 2016
Aixtron agrees €670m takeover by Fujian Grand Chip Investment Fund
Aixtron's Q1 revenue hit by ongoing weak LED-related demand
Aixtron's revenue grows 14% in Q4 as diversification outweighs LED-related China loss
Aixtron acquires PECVD-based OLED thin-film encapsulation firm PlasmaSi
Aixtron continues reorganization in 2015
Aixtron launches AIX R6 next-generation MOCVD system
Tags: Aixtron MOCVD PECVD OLEDs
Visit: www.aixtron.com