1 September 2017
Compound Semiconductor Applications Catapult appoints CEO
The South Wales-based Compound Semiconductor Applications Catapult has announced the appointment of Stephen Doran as CEO.
Serving as director of operations & transformation at global defence technology firm Raytheon UK, Doran brings over 25 years of experience in the global electronics market, developing and delivering leading-edge products for the commercial and defence sectors.
Prior to Raytheon UK, Doran was chief operating officer at Wolfson Microelectronics, a multi-national company specializing in signal processing and mixed-signal audio semiconductors. His time with consumer electronics firm Motorola saw him spearhead new product development and commercial strategy for the USA, European and Asian markets.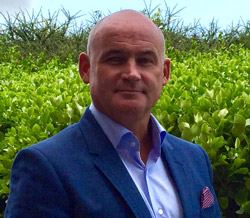 Picture: Compound Semiconductor Applications Catapult CEO Stephen Doran.
As CEO, Doran will lead the strategic direction of the Compound Semiconductor Applications (CSA) Catapult, to drive its approach to accelerate the UK industry's access and ability to exploit advances in compound semiconductor technologies.
"The Catapult offers the UK its best opportunity to establish itself as the global leader in compound semiconductors (CS)," believes Doran. "Ensuring this becomes a reality is a goal I share with my new team and board," he adds. "Having worked in semiconductor design and bringing new systems to market, this position provides the chance to blend these insights, working with industry partners to ensure the application of pioneering UK CS technology."
The Catapult is part of nationwide network of technology innovation centers designed and created by UK Government agency Innovate UK to drive economic growth. "His experience, expertise and energy will help ensure that the Compound Semiconductor Applications Catapult accelerates business growth in this important and growing technology area," comments Paul Mason, Innovate UK's director of emerging and enabling technologies, about Doran.
"The new Compound Semiconductors Applications Catapult recognises Wales' reputation as a leader in advanced electronics, science and innovation," says Alun Cairns, Secretary of State for Wales. "The UK Government's investment in this expert hub and in this technology is helping UK companies exploit what is a very lucrative global market, and create and support jobs right across Wales."
Forming a pillar of the CS Connected cluster in South Wales, the UK-focused CSA Catapult will bring together independent scientists, engineers and industry experts at what is aimed to be an industry-leading research facility, in order to explore novel applications of UK-designed compound semiconductor technology to programs relating to power electronics, photonics, RF and microwave applications. Its 'post-foundry' focus aims to make the most of opportunities for innovation and new product development to bridge the gap between companies developing novel semiconductor materials and those developing leading-edge systems for end-user applications.
"The facilities and expertise the Catapult is creating will accelerate the introduction of UK-developed semiconductor technology into new advanced systems, to solidify the UK's position at the core of international supply chains spanning multiple markets across the globe," reckons Doran.
"He brings a wealth of experience to our team, especially in bringing new technologies to market," comments Kevin Crofton, chairman of the CSA Catapult. "This experience will help the Catapult to identify and develop a range of services designed to help SMEs and larger industry players bring new compound semiconductor based products to commercial reality."
Compound Semiconductor Applications Catapult appoints chief operations officer
Compound Semiconductor Applications Catapult launches non-executive board
SPTS president Kevin Crofton appointed chairman of UK's Compound Semiconductor Applications Catapult
IQE and Cardiff University to help spearhead £50m UK Compound Semiconductor Applications Catapult
CSC formally launched as first compound semiconductor cluster
CST's commercial director Wyn Meredith appointed director of IQE/Cardiff joint venture Compound Semiconductor Centre
IQE and Cardiff University establish JV to develop and commercialize compound semiconductor technologies in Europe
Tags: Power electronics RF power semiconductors Photonics IQE
Visit: www.catapult.org.uk/catapult-centres