11 December 2018
Compound Semiconductor Applications Catapult appoints chief technology officer
The Compound Semiconductor Applications (CSA) Catapult has appointed Martin McHugh as chief technology officer.
The CSA Catapult is a not-for-profit organization (headquartered in South Wales) focused on accelerating the adoption of compound semiconductors and on bringing applications to life. It works across the UK within a range of industry sectors from automotive to medical, and from digital communications to aerospace.
From January, McHugh will lead the strategic and technical direction of the CSA Catapult's four key technology areas of power electronics, RF & microwave, photonics and advanced packaging. As CTO, he will support the overall strategy of the organization, leading its technology teams.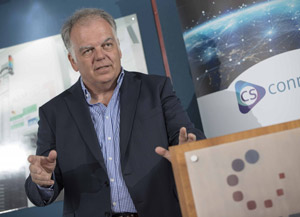 Picture: The Compound Semiconductor Applications Catapult's new chief technology officer Martin McHugh.
McHugh's experience includes working in technical and commercial roles, with responsibilities covering the UK, Europe and North America. Most recently, he headed up business and technology development for of the advanced packaging business Microchip (previously Microsemi Corp) where, during his 20-year tenure, he played a key role in transforming the firm's focus from analog telecoms to wireless digital communications.
McHugh has also worked on over 30 Innovate UK- and EU-funded collaborations worth a total of £50m over a period of 15 years. He also sits on the Industrial Advisory Board of the School of Engineering at Cardiff University.
"I am excited to be joining the CSA Catapult at such a key point in its development. At just over a year old, it is the right time for it to fully develop its technical expertise and equipment to enable it to provide a center of excellence to further the adoption of compound semiconductors," says McHugh. "One of my first priorities will be to drive forward the development of our evaluation modules that will enable companies to assess their new applications and bring them to market faster."
With analysts predicting that the global compound semiconductor market will rise from $74bn to over $300bn by 2030 (according to estimates by Allied Analytics, BCC Research, and CSA Catapult), the Catapult says it is essential that the UK plays a substantial part in that growth. The CSA Catapult is set to create about 100 new jobs internally and by 2023 it aims to have helped to create 1000 new high-tech jobs within the businesses it has supported around the whole of the UK.
"Martin's role is pivotal in ensuring that the Catapult's offer to businesses is informed by the highest standards and latest technology developments in compound semiconductors," says Catapult CEO Stephen Doran. "His experience in the sector and collaborative approach will ensure that the Catapult delivers on its promise to bring all sectors of the supply chain together to further the adoption of compound semiconductors into applications," he adds.
"The remit for the Catapult is to provide world-class engineering and consultative expertise coupled with state-of-the-art design and test facilities to advance the UK's compound semiconductor industry," notes Kevin Crofton, chairman of the board at CSA Catapult. "As CTO, Martin will ensure that the Catapult offers the right core capabilities in design, simulation and test protocols necessary to augment our growth in the compound semiconductor space," he adds. "Martin has a successful track record of working in collaborative environments – a skill that will benefit the Catapult and our industry partners."
Compound Semiconductor Applications Catapult secures first commercial agreement
Compound Semiconductor Applications Catapult to receive £51m from UK Catapult network
Compound Semiconductor Applications Catapult appoints CEO
Compound Semiconductor Applications Catapult appoints chief operations officer
Compound Semiconductor Applications Catapult launches non-executive board
SPTS president Kevin Crofton appointed chairman of UK's Compound Semiconductor Applications Catapult
IQE and Cardiff University to help spearhead £50m UK Compound Semiconductor Applications Catapult
Tags:  Power electronics RF power semiconductors Photonics
Visit:  www.csa.catapult.org.uk