20 June 2018
Micro-LED and mini-LED market to rise to $1.38bn by 2022
© Semiconductor Today Magazine / Juno PublishiPicture: Disco's DAL7440 KABRA laser saw.
The market for micro-LED and mini-LED products will grow to $1.38bn by 2022, forecasts a report by LEDinside (a division of market research company TrendForce).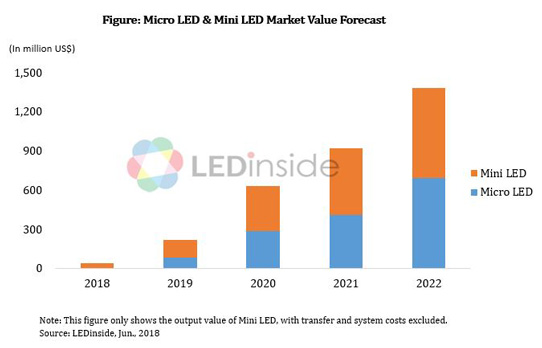 Micro-LED displays and Mini-LED backlight technology have been in the spotlight at this year's exhibitions of consumer electronics and display technologies, and major manufacturers including Samsung, Sony and AUO have showcased related conceptual products. Also, Samsung may mass-produce ultra-large micro-LED TVs, driving more manufacturers to invest in mini-LED R&D.
New technologies to accelerate micro-LED development
"Micro-LED still faces many technical bottlenecks, including epitaxial wafer/chip, transfer, full color, driver IC, backplane and inspection/repair technology," notes LEDinside research director Roger Chu. Transfer technology used to be the biggest bottleneck, but new transfer solutions have been emerging, such as pick & place transfer, fluid assembly, laser transfer and roller transfer. It is expected that there will be more cost-competitive solutions in the future, which may accelerate the advancement of micro-LEDs.
LEDinside notes that micro-LED technology is most likely to be adopted for display products with special requirements, especially those beyond the capabilities of LCD and OLED displays. It expects that micro-LEDs will be gradually applied to augmented reality (AR) micro projections that require high brightness, automotive HUD (head-up display) projection applications, and ultra-large digital displays in the near future. LEDinside estimates that the market for micro LED products in particular will reach $694m by 2022.
Mini-LEDs to see growing demand in high-end backlight market
Considering the existing technical barriers for micro-LED technology, manufacturers aim to launch mini-LED backlight solutions this year, hoping to boost demand. Displays using mini-LED backlights may appear on the market in second-half 2018, says LEDinside, and the market for mini-LED products is expected to reach $689m by 2022.
Compared with conventional LED backlighting, mini-LED chips are smaller in size. Coupled with direct-type LED backlighting and local dimming, the number of LED chips used will grow in multiples, LEDinside notes. Mini-LED will therefore become a key application that drives the demand for LED chips, it adds.
However, the costs of mini-LED backlighting remain too high for mainstream displays, while problems of heat dissipation and power consumption have not yet been solved. So, mini-LEDs may enter the market through high-end consumer products such as gaming notebooks, gaming monitors, monitors with special applications, as well as niche products like high-end TVs with high resolution, high contrast and high color saturation. These products put more focus on specifications than on competitive prices, so they will become the main battlefield for vendors aiming to achieve technology differentiation through mini-LED backlight technology, LEDinside reckons.
TrendForce is hosting the event 'Micro LEDforum 2018 - Micro LED Key Technology and Application Market' at the NTUH International Convention Center in Taipei, Taiwan on 12 July.
Micro-LED & mini-LED applications to account for 11.4% of LED wafer volume by 2022
Mini-LED revenue to reach $1bn in 2023, driven by digital displays and large-size TV backlighting
Tags: LED market
Visit: www.ledinside.com