6 December 2019
Plessey develops native red InGaN LEDs on silicon for micro-LED displays
Plessey of Plymouth, UK, which develops embedded micro-LED technology for augmented-reality and mixed-reality (AR/MR) display applications, has developed what it claims is the first gallium nitride on silicon (GaN-on-Si)-based red LED.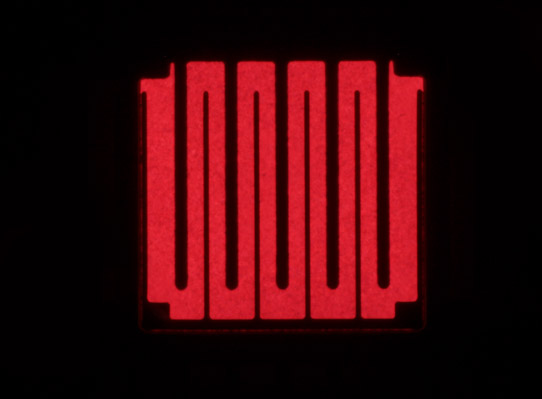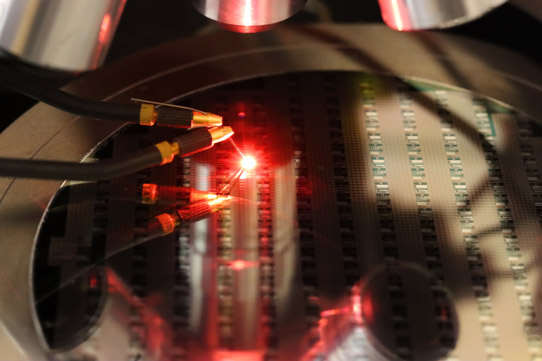 While indium gallium nitride (InGaN)-based blue and green LEDs are commercially available, red LEDs are typically based on aluminium indium gallium phosphide (AlInGaP) material or color-converted red LEDs. For augmented-reality applications, achieving high-efficiency ultra-fine-pitch red pixels (<5µm) remains elusive due to severe edge effects from AlInGaP material and cavity losses from color-conversion processes.
InGaN-based red LEDs offer lower manufacturing costs, scalability to larger 200mm- or 300mm-diameter wafers and better hot/cold factor over incumbent AlInGaP-based red LEDs. However, achieving red spectral emission with InGaN material is challenging due to the high indium content inducing significant strain in the active region, subsequently reducing crystal quality and creating numerous defects. Plessey says that it has overcome these challenges by using a proprietary strain-engineered active region to create an efficient InGaN red LED.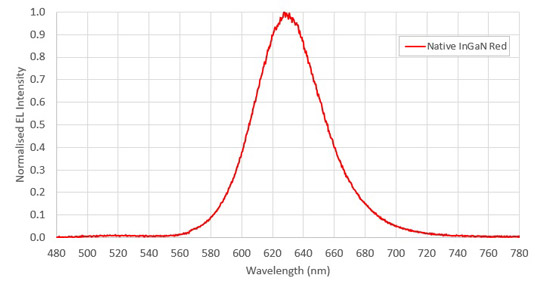 Plessey's InGaN red micro-LEDs have a wavelength of 630nm at an injection current density of 10A/cm2, a full width at half maximum (FWHM) of 50nm, hot/cold factor over 90% and higher efficiencies over conventional AlInGaP and color-converted red LEDs at ultra-fine pixel pitches. With this result, Plessey now has the capability to manufacture native blue, green and red InGaN material or to tune wavelengths from 400nm to 650nm using its GaN-on-Si platform.
"It creates a path towards low-cost manufacturing of ultra-fine-pitch and efficient red InGaN pixels, which will accelerate the adoption of micro-LEDs in both AR micro-displays and mobile/large display applications," says Dr Wei Sin Tan, Plessey's director of Epitaxy and Advanced Product Development.
Other recent milestones from Plessey include what is claimed to be the first wafer-level bonded monolithic 3000ppi (pixel-per-inch) GaN-on-Si micro-LED emissive display hybridized to an active-matrix CMOS backplane, as well as native blue and green emission layers on the same wafer. Plessey is continuing to rapidly develop micro-LED display solutions, with its roadmap including the production of full-RGB micro-LED displays in 2020.
Plessey is exhibiting in booth #21861 (South Hall 1) at the 2020 Consumer Electronics Show (CES) in the Las Vegas Convention Center (7–10 January). The firm is joining forces with Compound Photonics of Vancouver, WA, USA (a provider of compact high-resolution micro-display technologies for AR/MR applications) to develop what is reckoned to be the smallest 1080p micro-LED-based near-eye display solution for AR/MR applications.
Demonstrated at CES will be active-matrix displays in both native blue and green; as well as the new direct-drive display with the first-generation development kit. The technology is being showcased within an head-mounted display (HMD) head-up display (HUD) projection system.
Compound Photonics and Plessey partner on micro-LED displays for AR/MR applications
Plessey's micro-LED growth technology combines native blue and green epi on single wafer
Plessey's new native green LEDs boosts output for micro-LED displays
Tags: Plessey GaN-on-Si microLED