26 February 2019
Skyworks launches Sky5 LiTE front-end for universal 5G cellular deployment
Skyworks Solutions Inc of Woburn, MA, USA (which manufactures analog and mixed-signal semiconductors) has launched Sky5 LiTE — which is claimed to be the industry's first fully integrated front-end solution for mass-tier 5G cellular applications.
With improved RF performance in a uniquely compact package, Skyworks' newest device simplifies designs, enabling faster deployment. The baseband-agnostic platform supports up to 100MHz-wide bandwidth of 5G new radio (NR) waveforms with flexible power management options, delivering high-speed network operation with optimized efficiency and near-zero latency.
Targeted for mass markets, Sky5 LiTE interfaces with all leading chipset providers and equips early 5G adopters with differentiated architectures for an open ecosystem (the favored approach compared with closed, sole-sourced RF front-end products). With the recent introduction of Sky5 Ultra for premium applications, Skyworks claims that it offers the most comprehensive 5G portfolio on the market.
"Sky5 LiTE exceeds the performance requirements demanded by next-generation devices while accelerating 5G implementation," says Kevin Walsh, VP of marketing. "Skyworks is offering truly turnkey, regionally optimized, easily deployable solutions purposefully designed to deliver all of the transmit and receive functionality in a highly integrated form factor," he adds. "Our Sky5 portfolio is powering revolutionary applications across mobile, automotive and the Internet of Things."
According to the Global Mobile Suppliers Association, 201 operators in 83 countries are investing in 5G mobile and fixed wireless access networks in the form of tests, trials, pilot deployments and launches.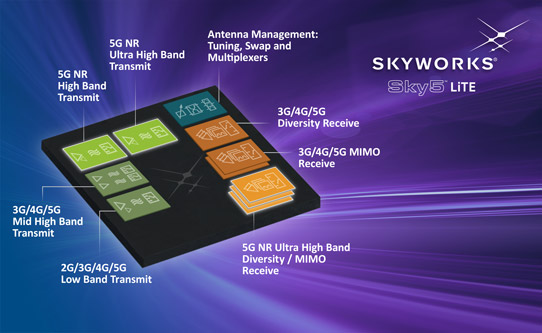 All Sky5 solutions support new 5G NR waveforms and spectrum in addition to enhanced carrier aggregation and 4G/5G dual connectivity, while delivering high levels of integration and performance. Functional core blocks include:
Primary transmit (Regional)
SKY5-8255 – dual-chain N77/N79 ultra-high-band power amplifier with integrated low-noise amplifier and filters (LPAMiF);
SKY5-8254 – N41 high-band power amplifier with integrated filter (PAMiF);
SKY5-8091-11 – low-band 4G/5G power amplifier module with four integrated duplexers (PAMiD) and 2G support;
SKY5-8095-11 – mid/high-band PAMiD with eight integrated duplexers/filters;
SKY5-8096-11 – mid/high-band PAMiD with nine integrated duplexers/filters and antenna swap functionality.
Diversity/MIMO (Regional)
SKY5-3735 – low/mid/high-band diversity receive (DRx) module;
SKY5-3728 – ultra-high-band N77/79 DRx/MIMO module with SRS support.
Antenna management core
SKY5-9269 – SP4T 80v aperture tuning and RF distribution switch;
SKY5-9256 – 4 x SPST 45v aperture tuning switch;
SKY5-9699 – DPDT antenna swap switch;
SKY5-9260 – SP4T 60v aperture tuning and RF distribution switch.
Skyworks representatives are present in the Executive Meeting Area in Hall 2, 2G3Ex and 2G5Ex at the Mobile World Congress (MWC19) Fira Gran Via, Barcelona, Spain (25-28 February).
Skyworks unveils Sky5 Ultra platform for 5G cellular front-ends
Skyworks validates Sky5 platform for 5G NR bands
Skyworks launches 5G antenna tuning solutions
Tags:  Skyworks
Visit:  www.mwcbarcelona.com
Visit:  www.skyworksinc.com/Sky5