News
5 December 2006
Seoul Semiconductor claims record with 100 lm/W @ 350 mA P4 LED
LED maker Seoul Semiconductor Co Ltd (SSC) of Seoul, Korea has introduced a new LED product, the P4. According to the company, the P4 emits 240 lm at 1 A of light, and offers what the company claims is the industry's highest luminous efficacy (100 lm/W @ 350 mA at the maximum) with only a single die, making it brighter than conventional 70 lm/W fluorescent and 15 lm/W incandescent lighting options.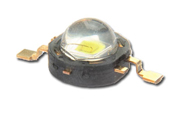 Jung Hoon Lee, CEO of Seoul Semiconductor, said: "Conventional LEDs have been known to emit more than 100 lumens with several dies. Seoul Semiconductor's P4 is the only LED product in the world with 240 lm via a single die."
SSC offers the P4 in two forms: one with 80 lm @ 350 mA (typ.), and the other with 100 lm @ 350 mA (typ.). Both are designed for operation in lighting applications, such as automotive, torches, LCD TV monitor back lights, projectors, home appliances, traffic signals, mobile phone flashes, street lights, decorative and architectural lightings, and general illumination.
The company says it plans to improve the P4's luminous efficacy up to 135 lm/W by 2007 and 145 lm/W by the first quarter of 2008.
See related items:
LED lighting for direct connection to AC supply
Nichia reports white LEDs producing 138lm/W at 20mA; over 90lm/W at 350mA
Visit: http://www.zled.com