News
15 August 2007
JDSU doubles power of its 808nm lasers for non-telecom applications
JDSU of Milpitas, CA, USA has launched its 2495-L3 Series 808nm fiber-coupled diode laser for industrial, dental and medical applications. New chip technology generates 4W in power output (double that of the firm's previous 808nm offerings), providing the highest brightness among single-emitter 808nm fiber-coupled diode lasers on the market, it is claimed.

"As the diode laser industry has matured, JDSU has leveraged its expertise in the telecom space and applied it to the industrial sector, bringing higher performance and lower cost diode laser solutions to the market," says Alex Schoenfelder, VP and general manager of the firm's Integrated Photonics business unit. "The 2495-L3 Series not only provides a more elegant offering for high-precision laser applications, it also opens the door for JDSU to participate in new markets."
For industrial applications, the 2495-L3 can optically pump Nd-doped material to generate a 1064nm beam that can be either used directly or converted to green and UV laser light through harmonic conversion (for material processing applications such as scribing or cutting semiconductor materials). The 2495-L3 provides a brighter, more reliable optical pumping alternative to conventional multi-emitter (bar) diode lasers, the firm claims. In a typical configuration, several devices with 4W fiber output can be bundled together to provide power equal to a conventional bar, providing much higher power per single fiber. The distributed architecture also prevents a single point of failure compared to bar solutions.
There is also growing demand for 808nm diode lasers in the dental and medical fields (Japan has certified this wavelength as the approved frequency for specific procedures).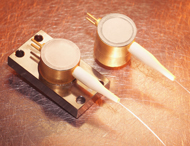 For soft-tissue dental processes, the 2495-L3 can allow more accurate treatment of diseased gum tissue without disturbing surrounding healthy tissue. In the therapeutic medical area of bio-stimulation, the device can provide localized heat to stimulate damaged muscle tissue to relieve pain and discomfort.

See related items:
Intense launches high-power, single-mode 830nm diode lasers
JDSU completes acquisition of Picolight
JDSU's fiber revenues flat amid forecast of decline
Visit: http://www.jdsu.com