News
20 August 2007
Forepi expands blue HB-LED capacity with two new MOCVD reactors
Veeco Instruments Inc of Woodbury, NY, USA says that Formosa Epitaxy Corp (Forepi) bought two of its TurboDisc K300 GaN MOCVD systems during second-quarter 2007. The Taiwanese firm, which was founded in 1999 and manufactures InGaN LED epiwafers and chips, is using the systems to increase its production capacity of blue high-brightness LEDs for outdoor display, lighting, keypad and sideview applications.
Forepi claims to be the only Taiwanese LED maker offering the full spectrum of high-power InGaN blue, green and near-UV LEDs.
"The K300's new multi-generational platform will give Forepi a long-term cost of ownership advantage, plus the technology to achieve their future LED brightness roadmap objectives," claims Piero Sferlazzo, Veeco's VP & general manager of MOCVD operations.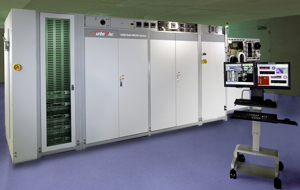 Picture: Veeco's TurboDisc K300 GaN MOCVD system.
See related item:
Veeco's booming HB-LED equipment sales compensate for data storage slump
Visit Veeco: http://www.veeco.com
Visit Forepi: http://www.forepi.com.tw