News
16 July 2007
First Nano launches solid-source deposition systems for nanowire production
First Nano, a division of CVD Equipment Corp of Ronkonkoma, NY, USA, has launched its ET2000-SS and ET3000-SS solid-source deposition systems, designed for producing semiconducting nanowires (e.g. of zinc oxide and gallium nitride, for blue, green and UV LEDs and lasers).
First Nano claims that researchers have demonstrated that solid sources such as gallium and zinc powders are less expensive and safer alternatives to using the conventional metal-organic sources used by the current metal-organic chemical vapor deposition (MOCVD) method for manufacturing LEDs.

To date, GaN and ZnO nanowire LEDs and lasers have been possible only on a research scale. A major issue for producing larger samples has been controlling the temperature of the solid source (Zn or Ga) and the temperature uniformity of the sample.
Picture: ZnO nanowires grown on a 2" sapphire wafer.
The typical process for depositing these materials is the vapor-solid (VS) or vapor-liquid-solid (VLS) method of CVD. In the case of ZnO, the source is heated to about 900 °C to vaporize the source powders and the sample is placed in the chamber where the temperature drops to about 800 °C . In most systems this leaves a non-uniform area for the substrate, and hence a very narrow process area in which the sample can be placed.
First Nano says its solid-source deposition systems have been designed specifically to accommodate the VS and VLS method of nanowire deposition. The new design provides better temperature control of the source material and substrate temperature uniformity by providing distinct temperature zones and separate closed-loop temperature control systems. The improved temperature control, along with the increased capacity of the ET2000-SS and ET3000-SS systems, represent the first step in bringing these materials to full production levels, claims First Nano.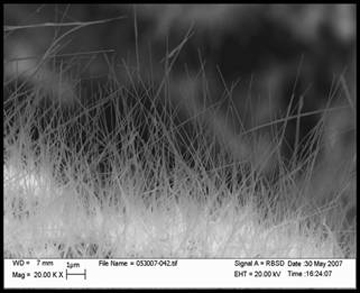 Picture: ZnO nanowires up to 25µm long grown on carbon flakes.
See related item:
First p-type ZnO nanowires could lead to cheaper LEDs
Visit: http://www.firstnano.com