News
3 July 2007
SiGe Semiconductor appoints ex-Motorola president Shlapak as chairman
SiGe Semiconductor, headquartered in Ottawa, Canada, has appointed Fred Shlapak as its new chairman, expanding the board of directors to seven members.
"We are honored that Fred has joined our board of directors," said SiGe Semiconductor CEO Sohail Khan. "He brings over three decades of leadership and operational experience coupled with deep knowledge of the semiconductor industry. His perspective will be invaluable as we continue to grow our market share in RF components for a broad range of wireless applications. We're in an exciting period for the company as we leverage our experience in GPS, and WiFi to penetrate the emerging opportunity for fixed and mobile WiMax."
Shlapak was president and CEO of Motorola's Semiconductor Products Sector when he retired in February 2004 following a 33 year career with the company. At Motorola, Shlapak led the company's Canadian semiconductor operations, before moving to Europe where he went on to head-up Motorola's European Semiconductor Group. He attained his B.S. and M.S. degrees in electrical engineering from the University of Waterloo. In addition to his new position with SiGe Semiconductor, Shlapak is also on the boards of Applied Micro Circuits Corporation, Gennum Corporation, and Tundra Semiconductor Corporation.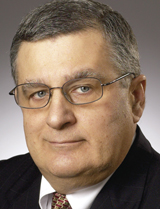 SiGe Semiconductor provides components for wireless LAN, GPS and Bluetooth devices, such as mobile phones, PDAs, laptops, wireless data equipment and GPS receivers.
Picture: SiGe Semiconductor appoints ex-Motorola man Fred Shlapak as its new chairman.
See related items:
Samsung joins SiGe Semiconductor in $20m funding round
SiGe appoints president and CEO
SiGe grew more than 50% in 2006, driven by WLAN and GPS
Visit: http://www.sige.com