News
21 June 2007
BOC Edwards launches Spectra-G exhaust abatement system for MOCVD processes
BOC Edwards of Crawley, UK has launched the Spectra-G, a large-scale, combustion-based exhaust abatement system capable of treating all exhaust gases generated by MOCVD production tools (including all nitride-based applications). The system is specifically designed as a high-performance, cost-effective and environmentally friendly solution for processes that include high flows of hydrogen and ammonia. Two models are available: the SG800 and SG3000.
A six-inlet head and high flow capacity allow it to handle exhaust for multiple process tools. The high flow capacity allows it to process exhausts from up to six tools simultaneously. Dedicated inlets for each tool keep exhaust streams separated until they are introduced into the combustor.
Fuel cost is minimized due to the system's use of the exhaust gas itself as the primary fuel source. Careful management of the combustion process minimizes the formation of undesirable NO x, says BOC Edwards. A high-velocity air flow transports heat and combustion products out of the system, completely eliminating the need for water and treatment facilities. Oxide particles can be removed from the air stream by filtering or a central scrubber.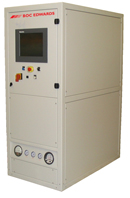 "The Spectra-G exhaust abatement system is an innovative solution for handling the hydrogen and ammonia-laden MOCVD exhausts from GaN tools," says product marketing manager Mike Czerniak. "We've experienced a fairly spectacular entry into the market," he claims. "We have sold multiple systems to one of the world's leading LED manufacturers, and this has been followed with additional sales to a leading manufacturer in Asia."
See related items:
BOC Edwards independent again after nearly 40 years
BOC Edwards targets compound semiconductor MOCVD with Helios 6 gas abatement system
Linde sells BOC Edwards' Vacuum and Semiconductor Equipment business to private equity firm
Visit: http://www.bocedwards.com