News
12 June 2007
Cree XLamp LEDs used in Beta LED's lighting fixtures
LED maker Cree Inc of Durham, NC, USA, says that its XLamp XR-E LEDs provide the light source in a new line of high-performance outdoor lighting fixtures called THE EDGE from the Beta LED division of Beta Lighting of Sturtevant, WI, USA (founded in 1992 as the architectural, rep-marketed division of Ruud Lighting Inc).
Designed for street, parking lot, parking garage, walkway and building-mounted applications, THE EDGE range includes models for a variety of applications (including an area luminaire, canopy luminaire, parking structure luminaire, bollard and wall pack) and sets new performance standards for outdoor LED lighting fixtures, claims Beta LED's founder and president Al Ruud. "We were looking for high brightness, efficiency, reliability, color stability and high-volume production," he says. "We chose Cree XLamp LEDs for this innovative new line because of their commitment to producing the highest-performing LEDs in the industry."
Cree's Xlamp LEDs have a luminous efficacy of 70 lumens per Watt and a color temperature of 6500K, making them a viable alternative to high-intensity discharge (HID) sources, says Beta Lighting.
"Robustness and reliability are also important issues for us," Ruud adds. "We have tested THE EDGE fixtures in extremely hot, cold and humid environments with zero failures."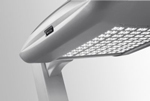 Picture: Beta LEDs new line of high-performance outdoor lighting fixtures, THE EDGE, with XLamp XR-E LEDs from Cree.
See related items:
Cree ships brighter, lighting-class warm-white XLamp LEDs
Cree's XLamp XR-E LEDs chosen for solar-powered streetlights in China
Visit Cree: http://www.cree.com
Visit Beta LED: http://www.BetaLED.com